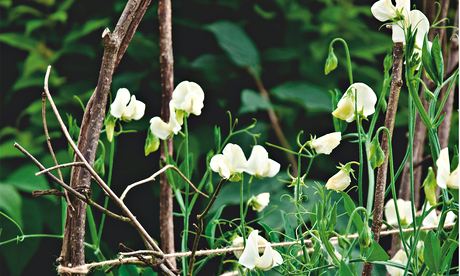 Alys Fowler: 'There's an art to staking the likes of sweet peas. The trick is to start early, before a plant is leaning the wrong way, and soon, while you can get between plants.' Photograph: Alamy
My dog does not like sticks, and certainly won't chase after one if I throw it. She cocks her head and stares at me slightly too long. In this relationship, I chase the sticks and she wanders behind. I spend all winter hunting for sticks of a certain length, a good taper, old and worn but not rotten, to grow sweet peas and beans up, or pea sticks to weave around wayward perennials.
There's an art to good staking; it takes time and effort. The trick is to start early, before a plant is leaning the wrong way, and soon, while you can get between plants.
For shorter plants such as peonies, phlox or euphorbias, I weave pea sticks and willow into a dome about 45cm above the young foliage. Pea sticks are the young twiggy growth of hazel or dogwoods; any young, firm branches work. Place around the clump and weave the tops until you have secured all the branches in together. The foliage will weave between the sticks, and the whole thing looks effortless.
Or try these willow garden cloches from Ancient Industries. They last well if removed and stored over winter. I've used them for Sedum telephium 'Herbstfreude', which collapses if not staked hard.
Some perennials need a gentle barrier to stop them leaning a little hard on their neighbours, particularly if they have to strain for light. Pea sticks work well, overlapping to form embracing arms around asters, heleniums, veronicastrum and other mid-height perennials. You could use string and bamboo, but it looks rather glaring while the late-flowering perennials get going.
I use willow or dogwood, bent and weaved into endless loops, to stop geraniums, heucheras and other low-growers tumbling on to paths. Take a single willow stem of at least a pencil thickness and bend it in half, sticking both ends firmly into the soil. Push the next stick in 10cm behind the last one, so that it crosses over to strengthen it. Reinforce further by weaving straight sticks along the bottom.
If you are prepared to study and experiment, you can get away without staking by cutting back perennials before mid-summer (the famous Chelsea chop) to force them to bush out at a lower height. The bible for this is the Well-Tended Perennial Garden, by Tracy DiSabato-Aust, which gives a detailed account of when and how each plant should be chopped. It's a great gift for someone gardening on an exposed, windy site.