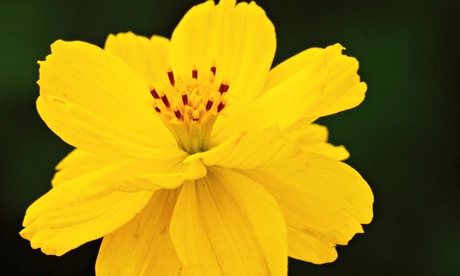 Annuals such as Cosmos sulphureus 'Bright Lights' are cheap and offer quick impact. Photograph: Gap Photos
For years, I've been writing in a cupboard under the stairs. It was a cosseted life, but if I got up too fast, I cracked my head on the stairs above, and the damp quarry tiles on the floor made my books a little mouldy.
So I chopped my bathroom in half and now I find myself typing in a proper room with a real desk and a large window on to the back. In idle moments, I stare upon my garden and, my, is it small. I'd be lying if I said I didn't dream of more space: room for goats, perhaps a small orchard, a little meadow and a bog. I can't move, but I can rearrange. It's one of the joys of a small garden: you can rip it up and start again.
I started this garden with mostly cheap, cheerful plants, a lot of divisions and cuttings. I used blue fillers to bulk out the design; perennial cornflowers (Centaurea montana), hardy geraniums such as G. pratense 'Mrs Kendall Clark' and G. wallichianum 'Buxton's Blue', and sea holly (Eryngium bourgatii and E. x oliverianum). These are all reliable in flower, good for insects and unmunched by slugs, but they make the garden too cool and sombre.
So I am being brave and replacing them with something more celebratory and vibrant: gardens are not supposed to be static pictures, but constantly evolving spaces.
I have chosen mostly annuals because they are cheap and offer quick impact. Hardy annuals, such as the California poppy Eschscholzia californica 'Orange King' and Tolpis barbata, a brilliant yellow hawkweed, plus half-hardy stuff such as Rudbeckia 'Marmalade', R. 'Prairie Sun', the brilliant exotic orange of lion's ear (Leonotis leonurus) and the Mexican sunflower, Tithonia rotundifolia 'Torch'. Perhaps I'll try the gaudy Cosmos sulphureus 'Bright Lights', too.
Sarah Raven, Higgledy Garden, B&T World Seeds and the unsurpassed Chiltern Seeds all sell unusual annuals. The half-hardy ones must be started from the end of February, under heat (aka on the windowsill), and planted out once all risk of frost has passed. The rest I will sow in mid- to late March. For around £20 including compost, I can make a huge difference.
Seeds are trickier than buying in plants, but I can ensure they won't be drenched in pesticides or grown in unsustainable peat compost. There will be slugs to battle, but there will also be triumphs. Plus, in these dark days, it allows me to indulge in the pretty delights of the seed catalogue where, for five minutes or so, my garden can be as big as I like.