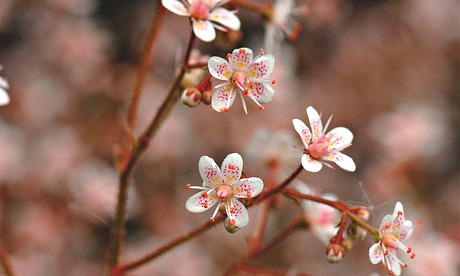 Saxifraga x urbium: delightful after a rain shower. Photograph: Alamy
Normcore is a new fashion statement for the kids. It's pretty easy to follow – take the comfy, untrendy clothes of the 90s, the oversized T-shirts, the boxy jeans, a baseball cap, a fleece jumper, even Birkenstocks, and wear them. If you can take the clothes of the 90s and make them hip again (and let's face it, the uniform is much like most gardening clothes anyway), can we work this trend for gardens, too?
My first normcore plant would be Saxifraga x urbium 'London Pride' because it's delightful – particularly after a rain shower, when the scalloped leaves glitter like diamonds and the tiny flowers float in a pink mist above (OK, pink mist isn't very normcore). It's most happy somewhere sun-drenched with very free-draining soil, so it will do well in window boxes that you never get round to watering, green roofs, walls, path cracks and edges. Once it gets going, it's very good at suppressing weeds because it forms a dense mat of leaves. Nothing eats it either. It's small but useful, just like a baseball cap.
I'd declare Cotoneaster horizontalis the Patagonia fleece of this trend: far too ubiquitous, but so very practical and rugged. C. horizontalis is laid-back and looks best where there's something for it to hang on; a low wall to sprawl over or up. This low-growing shrub has arching stems with herringbone branches covered with pink-tinged white flowers in spring. These are loved by all sorts of pollinators. Later in the year, it will be covered with tiny, bright red berries that the birds devour into winter. Being evergreen, it remains dark under the canopy, so not many weeds creep in, and it's a perfect hiding place for beetles, insects and small birds. It prefers full sun and will grow in any aspect and any soil. In summer, you can also use C. horizontalis as a climbing frame for other plants: herbaceous clematis – the group three types you cut back every autumn – work especially well.
Phlox paniculata represents the Birkenstocks well. Phlox have changed little since they first became popular in the 1960s. The foliage is unremarkable and the habit upright and clump-forming. But the flowers elevate them to something else, and the heavenly, scented panicles bloom from mid- to late summer. Phlox need to be grown in semi-shade and planted in rich soil to keep the moisture in, otherwise they get mildew. The pure 'White Admiral' in a shady spot is like a pair of pristine white socks with black Birks. In the right place, there's nothing at all geeky about it. It's just perfectly cool.