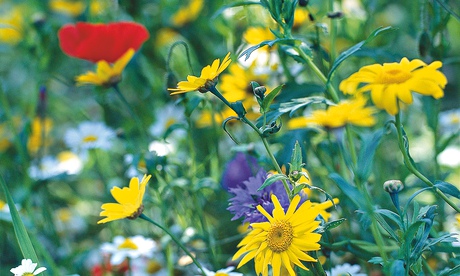 'An annual wildflower mix will flower within three months; a perennial mix tends to come into its own in year two.' Photograph: Getty Images
In tins on top of the fridge, between pages of my notebooks, in my pockets and at the bottom of my handbag sits a small seed bank of wildflowers. The plight of the pollinators had the great, the good and even the greedy (Hi, Bayer!) handing out wildflower seed last year.
I can't have been alone in accumulating these seeds: if you didn't sow yours in autumn, prepare the ground now and you'll be good to go in March. The most common wildflower mixes are cornfield annuals; poppies, corn cockle, cornflowers and the like. These prefer sun and fertile ground, and have enough impact to work in even small spaces, containers, tubs and window boxes.
Don't stick to native plants. The Pictorial Meadow mixes used around the Olympic stadium are a brilliant example of this, because the non-native flowers extend the season of interest. Be wary of cheap generic mixes that don't mention provenance, particularly next to an environmentally sensitive area, such as a nature reserve, and choose organic seed. Really Wild Flowers, Emorsgate Seeds and Landlife sell good-quality native seed.
These mixes are sown in autumn or spring. Autumn sowings flower earlier, and for some seed a winter chilling is necessary for germination. However, if your soil is heavy, a wet winter will rot seed. Some perennial seed may take a year to emerge if sown in spring.
Sow into bare ground. Remove weeds, digging out any perennial thugs such as dock, creeping thistle or bindweed. Wait at least two weeks between weeding and sowing: there is always another flush of weeds.
Rake the bed and mix seed with a little sand so you can see where it has landed. Split it into two batches, sowing one lot left to right, the other top to bottom (you are aiming for 1g per square metre). This should give an even spread. Rake the soil lightly and pray for rain. An annual mix will flower within three months; a perennial mix tends to come into its own in year two.
All this relies on having bare ground, which is often in short supply in established gardens. What's not, however, is a badly maintained lawn. These are ripe for reinvention. The easiest route to converting a lawn is to buy perennial plug plants (try wildflowerlawnsandmeadows.com).
If this is too expensive, buy seed, sow in trays and raise into one- or two-year-old pot plants that you can later plant into the lawn.