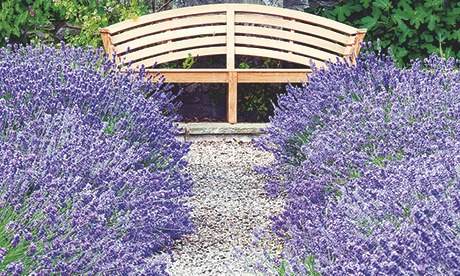 'A well-trodden path is the best way to keep down weeds.' Photograph: Gap Photos
I transformed my garden this year with a single gesture. I changed the path. It had been made from recycled brick, but several hard winters turned it to dust.
My new path is slate – durable, pleasing to walk on and a grey-blue that offsets the dusky pinks and purples of my garden. Most of the slate is old roofing tiles. I placed them down whole and every time I felt frustrated, I put on my clogs and danced on them, cracking them up – therapy and hard landscaping in one.
If I were a thorough sort of person, I would suggest that before making any path, weed-suppressing membrane should be put down. But I am neither thorough nor fussed. Membrane doesn't negate weeds; it just puts plastic on top of them, and I'd rather not have that degrading into my soil. A well-trodden path is the best way to keep down weeds; an old kitchen knife or hoe will remove any stragglers.
Whether your path is straight or meandering, polished or compacted soil, the point of a good path design is what meets the edge. If you want crisp lines, work regularly at edging the lawn or clipping the box. Box edging is classic, but even the smallest box demands a lot from the soil, so it's not wise to plant right up to it. If you let something flop over, don't be surprised to find the box dying off beneath. Lavender is an attractive alternative, particularly the low-growing sort such as Lavandula angustifolia 'Little Lottie', but it is not long-lived.
For a less formal approach, chives are pretty, pleasing to pollinators and cheap. Buy a supermarket pot in spring and divide it into clumps, but snip off the heads before they set seed or you will have them everywhere. Garlic chives that flower late in the summer are another choice. If, however, you have leaf rust (Puccinia allii) on garlic or leeks, growing chives exacerbates the problem. Parsley is generally pest- and disease-free: the curly type is hardier and more compact than flat.
Alpine strawberries are good in sun or shade. The variety 'Alexandra' doesn't produce runners, making for a neat edge. And I like thyme and pennyroyal because they are pleasing to stand on. The fluffy spires of Liatris spicata add a little height and work well behind low-growing plants. It likes very dry soil, so is great for edging a shrub bed. Pot marigolds, bedding daisies, violas or even cut-and-come again lettuce all make good temporary choices.
Or choose a mixture of types and repeat here and there, allowing the garden to tumble gently to the path's edge. It won't require much more maintenance than cutting back the garden if you lose the path.