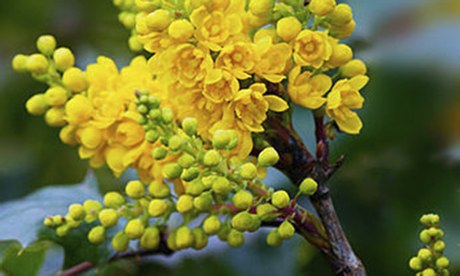 Mahonia x media 'Charity' is favoured by one of the few bees that forages through winter. Photograph: Alamy
The rarefied scent of a winter bloom is so strong, it is almost hypnotic. It is impossible not to do an about-turn, follow it to the source – and there is the surprise. These scented winter blooms are small and inconspicuous, often on bare branches. All the evolutionary adaptation has gone into luring pollinators through scent.
The most sophisticated is wintersweet, Chimonanthus praecox. It has a sweet, spicy smell of violet and allspice; if someone could bottle this, I'd buy the lot. Just a few twigs scent a room. The flowers are small, a translucent sulphur with a dab of maroon inside, waxy with essential oils: 'Grandiflorus' has large flowers, 'Luteus' is butter-yellow.
It's a good one for the front garden, happy in sun or part-shade and in most soils. To be welcomed by this every time you open the door is a prize indeed. The downfall is the rest of the year: this is an unexciting shrub with dull-looking leaves. Still, I think you can forgive it when you drink in that first heady breath.
Viburnum x bodnantense 'Dawn' comes a close second. Sweeter-smelling, it can perhaps be slightly sickly indoors, but outside on a crisp day its sugared notes are a delight. It's a pretty thing up close, tiny, rose-pink flowers in tight clusters that fade to white with age. It flowers from late October, often while its bronzed foliage is still on, and keeps going until March. 'Dawn' is a good weather barometer: it tends to flower in the milder moments of winter, when pollinators are most likely to be out. The flowers can withstand occasional frosts. Again, the rest of the year it is less than pretty: drab green flowers and an odd habit. Plant it somewhere you can enjoy the blooms, but bear in mind it can grow up to 3m.
Mahonia wins the prize for being most useful. It doesn't mind what soil it's in, it isn't bothered by pollution and will chuck out long clusters of yellow flowers. It smells like a delicious, scented grandmother, but its spiky leaves mean no one will try to trespass. In late summer, it is covered in dark purple berries that can be used to make jellies and juices if the birds don't get them. Mahonia x media 'Charity' grows up to 4m and smells good.
Both are favoured by one of the few bees that forages through winter. The buff-tailed bumblebee (Bombus terrestris) will fly in temperatures close to freezing. There's a study on to see where these bees fly in winter. Submit sightings to the Bees, Wasps and Ants Recording Society.