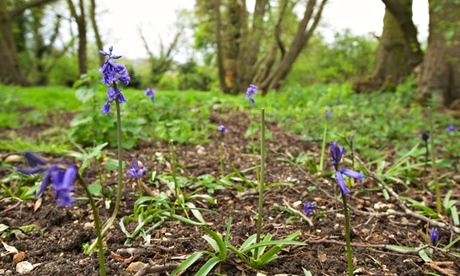 What's eating the flowers, including these newly-planted bluebells? Photograph: Tom Hoblyn
Tuesday
The Oaksmere Hotel restoration project's ambition of opening for the summer trade is looking good. Much of the groundworks for the new terrace are complete with paving about to start. Staffing is now paramount and an ad in Horticulture Week for a head gardener has resulted in more than a hundred CVs to sift through. Perhaps unsurprising as this is a desirable job to have: a walled garden with glasshouses to supply fruit, veg and cut flowers to the hotel, seventeen acres of parkland, water features, topiary and borders to develop and maintain. Although it is rather galling that working for a garden designer doesn't command that kind of response: we have been looking for a landscape architect for sometime now.
All applications were scrutinised and catalogued on a spreadsheet: red for no, orange for possible and green for a preliminary interview – the idea being that I shortlist people for the client to conduct a second interview. We now have 10 potentials for interviews next week.
Wednesday
Planting plans are one of my favourite stages in the design process as the planting is truly the icing on the cake. At the risk of upsetting any contractors, the hard landscaping is one giant foil for the planting. The Oaksmere is blessed with wonderful yew topiary and although neglected in recent years, our amazing tree surgeon is confident of making them stand to attention once again. We have phalanxes of topiary flanking our new terrace, standing almost 5m tall, each one containing a series of windows. An offset circular array of similar sized columns known as the Seven Sisters adds to the theatre, cunningly created so that you can only ever see five of the sisters at any one time. But this is just the dot of the exclamation mark, as the lime avenue really dominates the scene. All in all, a lot of drama, providing plenty of backbone for a planting scheme. Bliss.
I feel the need to de-militarise the topiary and avenue by adding some wispiness in the form of cloudy shrubs and grasses. But species will have to pull their weight and provide interest throughout the year. One immediately thinks of Miscanthus sinensis but I find it a bit too skeletal in the winter. Molinia species are much more sensitive but don't have the winter persistence – though, this is a sheltered spot. And so the process begins: similar to our head gardener system, I consider a palette using the traffic light system. As usual, I end up with way too many plants and force myself to cut the list in half.
Thursday
This week, we have had three new enquiries, the first of which I visited today. It's a wonderful sounding project in Surrey, and with the owners away, I meet with the estate manager and head gardener for the briefing, heading home just as the Easter holiday traffic starts in earnest. As it's all heading in the opposite direction, I feel rather smug as I whizz past the queues.
Good Friday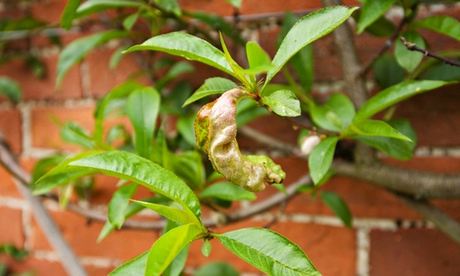 Peach leaf curl strikes in the fruit and veg garden. Photograph: Tom Hoblyn


Our mild, wet winter has now manifested itself in a pest and disease bonanza in the vegetable garden. My wife gave me a set of historical botanical fruit prints several years ago, and I'm now growing many of the actual fruit in the garden. Along our pergola, I have trained espalier pears that had just about furnished each horizontal bar, but canker has completely girdled my beautiful 'Jargonelle' and we are left with the lower tier. Peach leaf curl is also in evidence and asparagus beetle is doing its best to scoff the asparagus before we do.
I operate a lazy organic gardening method here, in so much as I don't have the time to provide much preventative and curative organic measures, so go along the lines of trying to provide a healthy environment and end up with strong plants. Hmmm, possibly I need to up the stakes here.
Saturday
What keeps eating my flowers? Around the pond, I planted loads of Fritillaria meleagris, and every year, something pulls the heads off just as they come into full bloom. This year, I notice that my newly-planted bluebells are getting the same treatment. Even the oxslips are taking a hit. There are two possible culprits: rabbits or moorhen. If it's rabbits, why don't they eat more of the plant, rather than just nip off the most unpalatable part? If it is the moorhen, why do it at all?
Rabbits have always been in abundance, with surrounding fields providing a perfect habitat. Today I am strimming around the pond in an effort to keep the terrain inhospitable to mammals requiring cover. If the moorhen is the culprit, there is not much I can do. They are a nuisance: not only stealing the chicken food but also preventing the ducks from rearing a brood on the pond.
Easter Day
Between family events, I manage to sneak out to tie up the sweet peas. I grow them as cordons, which is time-consuming (possibly why I have no time to practice good organic husbandry), but picking the first stem with five large blooms makes it all worthwhile. No doubt aphid will soon attack. Note to self: order some Savona (insectidal soap).
Easter Monday
The remaining two enquiries needed visiting today. I don't normally visit clients during holidays, but we have two short weeks and two May bank holidays coming up – not to mention Chelsea flower show, so every day counts.
The first was bang opposite Kew Gardens, where I trained years ago. I didn't have time to visit, but I bet the woodland gardens were at their best. Anyway, subject to an agreeable fee proposal, I hope to be back on a regular basis. The second client is in the Wentworth Estate – a sort of gated community that surrounds the famous golf course. This is my first foray into this community I have heard so much about. (It's traditional stomping territory for my peers.) I wasn't sure what to expect and was somewhat relieved to find the property to be truly beautiful. I had already worked with this client at their previous house so this was part social re-acquaintance, part engagement, resulting in a delicious late lunch. Once more I left just as the Easter holiday traffic was building, but today there are no smug feelings. We all head home together. Slowly.
• Thomas Hoblyn is a landscape and garden designer. This is the latest in a series of posts on the ups and downs of a life spent creating beautiful gardens.