Mellow fruitfulness: Clerodendrum trichotomum var fargesii. Photograph: Alamy
A Cercidiphyllum japonicum, or katsura, forms the centrepiece of our studio garden in Waterloo. I don't usually plant big, but when we moved here we had to remove a failed cherry and needed a replacement tall enough to cast its own shade. Five years on, the katsura has relaxed into its position, its graceful limbs reaching out to touch the walls and brush you as you pass on the path. It is a delight from the moment its coppery leaves come to life in the spring, but at this time of year it is the unique perfume – a delicious smell of burning sugar – that takes you somewhere special.
On the farm I have a little grove of them planted from seedlings I collected in Japan, but I am happiest to have the autumn up close in the city.
Although it is a big season it can also be captured in a back garden. Through colour or berries, or sometimes both, there are shrubs that distill autumn in miniature.
Clerodendrum trichotomum is similar to the katsura in providing us with distinctly autumnal joys. In August the branches are filled with creamy flowers and the air around the plant is heavy with a spicy perfume. But when they come into berry, they come into their own. Held in open bunches with air between them, the turquoise fruits are set like jewels in a crimson, fleshy star. If you have never seen one before, you will marvel: if you have, you will be delighted that it is that time again.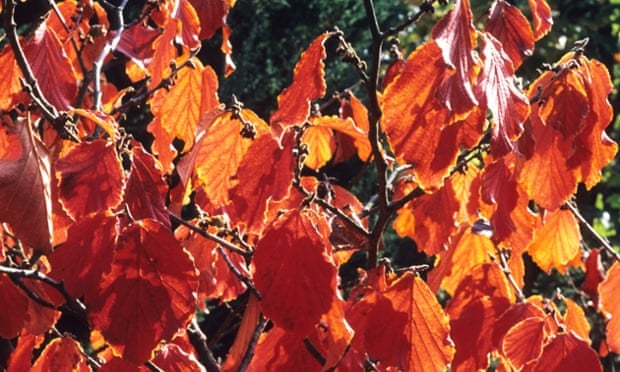 A final fling: Hamamelis x intermedia 'Hiltingbury'. Photograph: Alamy
C trichotomum var fargesii fruits reliably. Over time it will form a decently sized shrub or a small tree, as well as a fine network of limbs under which you can plant hellebores and other shade lovers. Its only foible is the smell of the leaf, which has a curious mustiness.
Hawthorns and crabapples make good companions if your space is limited. They provide blossom earlier in the season and autumn colour now. Our native hawthorn, Crataegus monogyna, is great for wildlife, but there are others that are arguably showier. I recently used the cockspur thorn, C persimilis, in a coastal garden, and it has proved almost invincible against salt-laden gales. It is good with pollution, too – the dark, shiny leaves reflecting light and providing a fine backdrop to clusters of scarlet berries. I plan to team it with Malus 'Evereste', one of the best behaved of the crabs, and Malus 'David' in a fruiting grove to attract birds.
On a smaller scale there are two shrubs I would single out for their final fling. Hamamelis x intermedia 'Diane' colours as vibrantly as the best of the acers with tomato-red foliage. Look closely and you will see its buds already prepared for February. Euonymus planipes is another favourite. Colouring soft yellow and orange, the foliage is backdrop to dark red fruits that burst to reveal bright orange seed. You will have a small window of enjoyment once this happens, as the birds delight in this autumn moment as much as we do.
Get growing

Plant with the light behind trees and shrubs to make them glow when they are colouring.
Email Dan at dan.pearson@observer.co.uk or visit theguardian.com/profile/danpearson for all his columns in one place