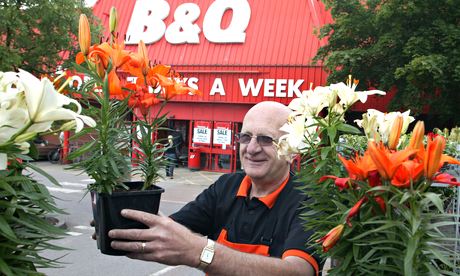 B&Q sells 140m bedding plants a year in its UK stores. Until now these plants would have been packaged in non-recyclable polystyrene trays. Photograph: Frank Baron for the Guardian
The UK's largest garden retailer is to ditch plastic trays used for bedding plants and replace them with biodegradable "teabag-style" packaging which will allow plants to be placed straight into the ground.
The move by B&Q is part of its drive to make gardening more environmentally friendly. The retailer has also committed to removing peat from all its horticultural products. The so-called "Easygrow" technology roots each bedding plant in up to 95% peat-free compost and will be incorporated into 20 varieties of bedding plants at the peak planting time this spring.
Each plant is packed in the compost in a self-contained biodegradable "teabag" made from compostable corn starch and coir, a natural fibre extracted from coconut husks.
B&Q sells 140m bedding plants a year in its UK stores – 80m of which are sold between March and June. Until now these plants would have been packaged in non-recyclable polystyrene trays, resulting in 22,500 cubic metres of polystyrene – enough to fill more than 87,200 wheelie bins and ending up as non-degradable waste in UK landfill sites.
Its initiative is supported by the charity RSPB, long-time campaigners for peat-free gardening to reduce the exploitation of lowland peat bogs. These are home to birds such as merlins and golden plovers, as well as dragonflies, raft spiders and carnivorous wild plants including sundews and butterworts. It takes a thousand years for raised bogs to build up a metre depth of peat. Peat extraction is also a significant source of carbon emissions, releasing around 1.25m tonnes of carbon dioxide each year.
As well as being kinder to the environment, each teabag container protects plant roots and makes bedding plants easy to handle with less chance of root damage.
Olly Watts, RSPB peat expert, said: "Now gardeners can buy plants and give nature a home in their gardens without destroying nature's home in the countryside. Lowland peatbogs are really special places for plants and wildlife and there is no reason why we should be digging it up to grow flowers in at home. Most gardeners love nature and the wildlife that visits our garden flowerbeds, borders and veg patches."
Matt Sexton, director of corporate social responsibility at B&Q, said: "As the largest garden retailer in the country, we are keen to ensure that our horticulture products have the lowest level of environmental impact possible. Easygrow has allowed us to move from a non-recyclable packaging form to a recyclable one, to make a substantial move away from the use of peat and to reduce our transport footprint associated with moving our plants around the country."
In line with voluntary targets set by the Department for Environment, Food and Rural Affairs, B&Q is aiming to have removed peat from all its horticultural products by 2030, and substantially before then.