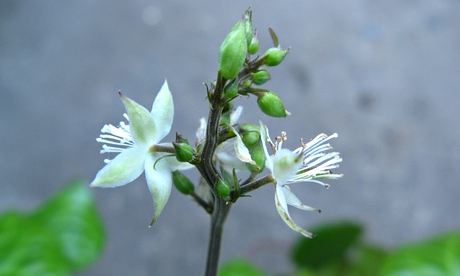 The star-shaped flowers of Beesia calthifolia appear in spring. Photograph: Ben Ram
Recently I saw a change to my weekly schedule. From March to September I devote an extra day a week to selling the plants I propagate at the nursery. Every year, as if to coincide with my change in schedule (and the annual opening of the nursery doors) a plant comes into bloom. It's not bold or bright, in fact it's rather diminutive, but pretty nonetheless. Its small star-shaped, greenish white flowers sit in whorls atop wiry, straight, vertical stems, where they sway gently in any breeze.
The plant I mention is Beesia calthifolia. People react to Beesia in two ways: they either fall in love with it on sight, or they walk straight past it. Then, when taken back to see it, those that walked straight past fall in love with it too. It isn't the flowers that people fall in love with, although I adore them. It is the heart-shaped, serrated leaves: these are puckered and deeply veined, flushed with purple, acid green and all the shades of green in between. They are held perfectly all year on rigid wiry stems, a delight for any gardener's eye.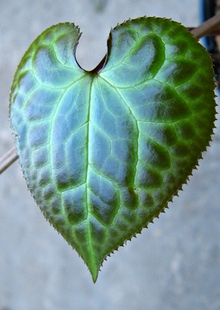 The puckered leaves of Beesia calthifolia are held on rigid wiry stems. Photograph: Ben Ram


Beesia has a tale to tell. A story that spans nearly a century and links four plant hunters. The plantsman and proprietor of Bees nursery of Chester, Arthur Kiplin Bulley, had hired plant hunter George Forrest to head to China in search of new plants to be introduced to British cultivation. It was in China that he found a new plant in the buttercup (Ranunculus) family. The plant didn't fit into any previously known genera, so in 1915 it was named Beesia cordata (now Beesia calthifolia), after the nursery, by Sir Andrew Balfour and his assistant, Sir William Wright Smith. A little later, Frank Kingdon Ward discovered a second species of Beesia in Burma which was named Beesia deltophylla. Very similar to B. calthifolia, this plant only has about 15 teeth on each side of its leaf as opposed to B. calthifolia's 50, and lacks the interesting texture in its leaves. To this day, the two species are confused in cultivation.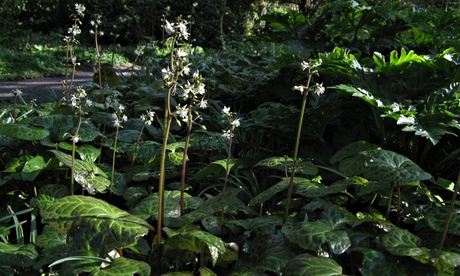 A drift of Beesia calthifolia growing in dappled shade. Photograph: Ben Ram


Although probably introduced to western cultivation by Bees, Beesia didn't remain in cultivation long, and it took until 1996 for it to be reintroduced. On a joint visit to Japan the modern day plant hunters Bleddyn Wynn-Jones and Dan Hinkley found plants of it for sale in a nursery and subsequently brought it back to gardens both in the USA and the UK where, with some understanding of its needs, it is now flourishing.
It grows in a drift in the woodland garden here in North Wales. The soil is enriched with just enough leaf mould to stop it ever drying out and yet on a bank so its drainage is excellent. The corner on which it grows is exposed to the east, allowing it to remain cool in even the hottest summers. It receives weak morning sun, the shafts of light playing delightfully on it through the leaves of a horse chestnut. It remains true to the site in which it has been planted, refusing to run or spread elsewhere, each plant becoming fuller as the years go by.
For the rest of the summer I will be dragging people back to see the Beesia; now, to see its flowers, and in August and September to see its pea pod-like seed heads. Each and every such person will be pleased to have been introduced to this lovely, honest woodlander. Then, for the part of the year that the nursery isn't open, I shall admire its evergreen foliage all on my own and think of the men that brought it to me.
• Robbie Blackhall-Miles is a modern day plant hunter's propagator and gardener. He is personally interested in ancient families of plants and blogs about these on his website fossilplants.co.uk. He also tweets as @fossilplants.