Vita Sackville-West, c1925. Photograph: EOHoppe/Getty Images
Vita Sackville-West, who wanted terribly to be remembered as a poet, but is better known for her experimental domestic arrangements and her garden at Sissinghurst, was the subject of one of the most stylish and experimental biographies in English. In 1927, Virginia Woolf asked permission to write about the woman who was no longer her lover: "Suppose Orlando turns out to be Vita … Shall you mind?" Of course Vita didn't mind (this was better than sex, though she wanted more of that than Woolf was offering). In any case, it would have been hard to stop Woolf once the idea had "sprung" upon her that in writing a fantastical life of Sackville-West as the embodiment of all her ancestors across 400 years, she could "revolutionise biography in a night".
The example set by that first book must be daunting for anyone thinking they might follow Woolf's lead. Matthew Dennison ignores the challenge, which is one way of dealing with it. As an established biographer who specialises in grand women – the Empress Livia, Queen Victoria's daughter Beatrice, and (just last year) Queen Victoria herself – it is strange that he does not show more interest in the history of his chosen genre. Not that there's any need to write lives backwards or condensed into five minutes or stretched across centuries, but is Dennison really content to say that "winter gave way to spring" and "March faded into April" when Woolf's game-changing skits prodded the conventions for conveying that "time passes"? Woolf's fun with clouds has not successfully curbed the number of "looming shadows" in this book (or un‑looming shadows. Take this bizarre sentence: "The war alone clouded the horizon").
The need to downplay Orlando may explain Dennison's underestimation of Woolf, who appears merely as one in a long line of increasingly indistinguishable lovers, and a petty, "preening" one at that. She may have been given to "lascivious snobbery", but that deserves some discussion given that she was also (unlike Vita) a radical socialist. Her death in 1941 is reported in a list of wartime sadnesses, and apparently causes no more disturbance than the fact that Sackville-West's sister-in-law moves down to Cornwall.
We must recover from this flattening of Woolf and accept that there are many other kinds of fascination in the life of Sackville-West. Dennison emphasises the desire for solitude that existed in tension with her joyous sensuality and need for love. She demanded complete commitment, while remaining coolly short of it herself. There could be no curtailment of her independence, so she ended each of her affairs with a return to the lone world of her writing, and, for the last 30 years of her life, to the Tudor tower at Sissinghurst, her brick eyrie above the Kent Weald. The half-ruined castle suited her in its floor plan as well as its history, since none of the rooms connected up. Her children could live with their nanny in a cottage; she and her husband Harold Nicolson both had self-contained spaces for sleeping, writing and loving the different people they allowed each other to love.
There were moments in her early life when Sackville-West looked set to create baroque showdowns wherever she went. Her elopement with Violet Trefusis gave rise to such sensational scenes as two husbands arriving in a chartered plane to retrieve their wives from Amiens. But Sackville-West much preferred quietude. Dennison's best work is in reading her theatrical role play – in masques, portraits and, most of all, fiction – as part of a bid for privacy.
What she most wanted to protect was her life as a writer. She won a school prize for her essay "Reminiscences of an Oak Tree", and kept revising that essay to the end of her life. Writing was, for her, a source of stability and shelter: the oak tree to which she was always returning. Coming home from her affair with Trefusis (who never recovered from it), Sackville-West found that her writing, her trees and her husband were still there for her, and she did not want to risk them again. She dedicated a poem of gratitude to Nicolson: "I have been absent. I have found unchanged / The oaks, the slope and order of the fields". She then began work on "The Land", her long poem about the continuous cycle of rural life.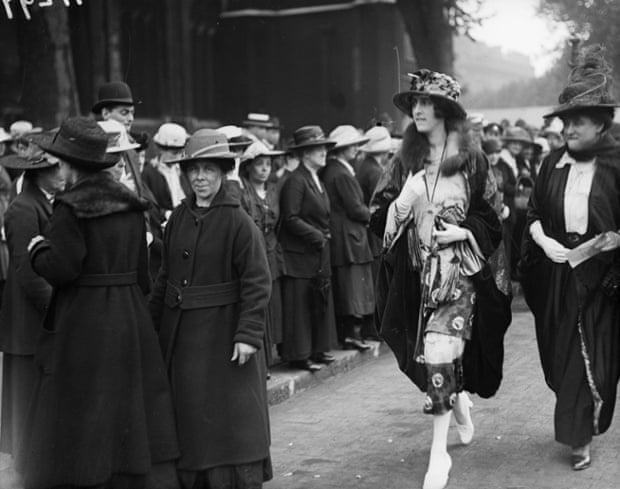 Vita Sackville-West attends a wedding in June 1919. Photograph: Topical Press Agency/Getty Images
She was not concerned in her writing with "the razor edge of balance" that kept Woolf awake at night, or the difficult burial and resuscitation of the literary past that TS Eliot achieved by crossing out most of The Waste Land. Sackville-West wrote without fuss or anxiety. Her fluency could be relied on to provide imaginative security, and she wanted readers – of The Edwardians, Family History, All Passion Spent – to feel that too. Having no great desire to push at the limits of what could be said about women in love, she gave her own erotic feelings to a series of fictional men. Twenty years ago, in a probing book called Vita and Virginia (which has made little impression on Dennison), Suzanne Raitt showed precisely the kinds of economy by which romantic, pastoral, nostalgic fiction might be related to passionate lesbianism, the one enabling the other.
Sackville-West had many kinds of difficulty and dispossession to deal with, what with a grotesquely selfish and unhappy mother who took to staging scenes worthy of a Jacobean revenge play, and the lifelong sorrow of her exile from Knole, the great house of her paternal ancestors. There was courage in her way of claiming her inheritance by writing about it, and in her affirmation of the traditions she most cared about. She was energetic, too, in sorting out alternative lines of female inheritance, as when she published for the first time the impressively no-nonsense castle-commuting diary of her doughty 17th-century ancestor Lady Anne Clifford, wrote the life of Aphra Behn (forebear of all women who make money from their pens), and took inspiration from a range of saints and mystics who became the guiding spirits of her monastic later life.
Dennison makes few claims for her writing, which interests him only as a forum in which Sackville-West tries to make sense of herself. So his book is not a revaluation of a once-popular author. Nor is he attentive enough to her horticultural ideas, or those of her outstanding contemporaries, to convey the nature of her brilliance as a gardener – though he drops in some memorable details such as the dousing of yew trees in bull's blood. Dennison's subject is self-invention, and it comes as no great revelation that Sackville-West was a mistress of that art. She contrived, almost at will, to be Chatterton dying, Joan of Arc in armour, doyenne of the wireless; she was exclusive and popular, sensual, generous, Spanish, English, polite, outrageous, ruthless and aloof. Woolf knew she was playing (and winning) Sackville-West's own game when she looked up from Orlando to ask of Vita "Do you exist? Have I made you up?
• Alexandra Harris's book Virginia Woolf is published by Thames and Hudson. To order Behind the Mask for £18.99 go to bookshop.theguardian.com or call 0330 333 6846.
• This article was amended on 10 November 2014 to include the name of the author in the headline.