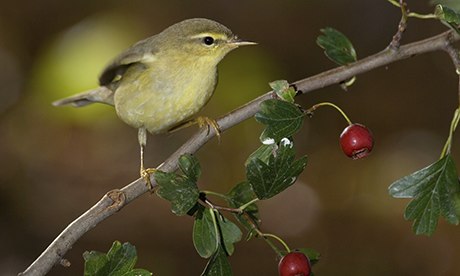 Winging it: a willow warbler among the autumn berries. Photograph: Marcos Veiga /Alamy
It's been a good year for berries, with a summer's worth of sunshine, water when we have needed it and a mild start to autumn so the birds didn't go hungry. Berries, hips and haws are every bit as good as autumn-colouring foliage and better still in combination.
When I arrived here I planted a little blossom wood, which was as much about the berries as it was the spring blossom. Three years later I am reaping the rewards of my efforts: a jug of native berries on the table is glistening in low sunshine, clusters of hawthorn the darkest of the reds.
Out on the bushes the rosehips arc away from the plant so that the fiery fruits are suspended in light, and they make fine contrast with the pink of the spindle. Euonymus europaeus is a much-underrated native with fruits that are bubble-gum pink and the shape of Turkish turbans, and in cold weather the pods rupture to reveal bright orange seeds. The scarlet droops of Viburnum opulus are shining and succulent and hang heavy in the bunch.
My jug of berries is just the beginning; other plants are bringing their ornamental value to the garden, with a twist. Take for instance the roses, which have been selected for their fruit alone: the flagon-shaped hips of Rosa moyesii, the black hips of the scotch briars or the myriad of hips from the ramblers. Send an R longicuspis or "Paul's Himalayan Musk" up into a tree that needs an autumnal lift and you will have a cloud of scarlet hips 30ft up.
Mountain ash are a lovely group of well-behaved trees. Crimson one day and striped the next, they are easy to establish, but few will overwhelm a garden for they are modestly sized and not invasive of root. They appear in many northern climates around the world, seizing a niche as a pioneer species, and are good in a garden setting. Sorbus "Sunshine" has startling yellow fruit. It is brighter and more yellow than the yolky "Joseph Rock". S scalaris is another delight with red fruit and ferny foliage. In contrast, S hupehensis has grey summer foliage and pale, pearly fruit which ripens from pink to white.
The hawthorns are also modestly sized and a good choice for both fruit and flower. I would never hesitate in recommending our common May, Crataegus monogyna, as a garden plant because it invites so many birds into the garden to feast on its fruit, but there are others that are more ornamental. There's C crusgalli, the cockspur thorn, with its flashing autumnal foliage and berry, and the Glastonbury thorn C monogyna "Biflora", which flowers sporadically in the winter.
I came upon C ellwangeriana recently at Great Dixter for the first time and fell for it immediately. You rarely see this tree with its marble-sized fruit and airy, open habit. I have a plant on order already and I know that in another three years I will be pleased to have it in the mix.