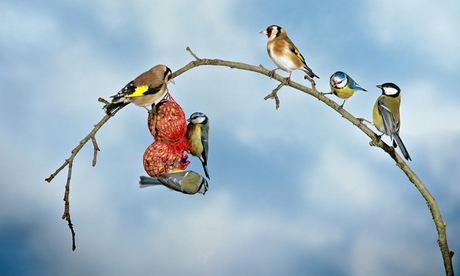 Goldfinches and blue tits feed in a garden. Photograph: Alamy
Blue tits, goldfinches and great spotted woodpeckers were found in greater abundance by the UK's biggest citizen science survey this year, despite many bird species being recorded at lower numbers in gardens because of the unusually mild winter.
The top 10 of RSPB's annual Big Garden Birdwatch has all changed since last year, with blue tits (an average of 2.5 birds seen in 74% of gardens) in their highest position since the annual survey began in 1979, while blackbirds, previously in the second spot with an average of 2.2 seen in 82% of gardens, have dropped to fourth place.
Goldfinches have climbed another place since last year to number seven, while the robin, which has reached number seven in the past, has dropped down to number 10.
And for the first time ever, the great spotted woodpecker has made it into the top 20, with 0.1 birds recorded in 10% of gardens.
Around half a million people took part in the annual survey, which asked people to spend an hour counting birds in their garden or local park during the last weekend of January.

Link to video: RSPB Big Garden Birdwatch: how to attract birds to your garden


Many birds were recorded in lower numbers in gardens in 2014 as the mild weather meant they did not have to rely on human help for food or water. The weekend of the birdwatch was cold and rainy, and lower figures were expected by the RSPB.
Overall numbers of species such as blackbirds – down 46% since 1979 – fieldfares and redwings appeared to have dropped in gardens since 2013, but in many cases these species did not visit gardens as frequently as the mild winter meant there was plenty of food and water available in the countryside.
Richard Bashford, Big Garden Birdwatch organiser, said: "2014 was always going to be an interesting Big Garden Birdwatch as the winter has been so mild, and we wondered if it would have a significant impact on garden birds.
"They were out and about in the wider countryside finding natural food instead of taking up our hospitality. The good news is that this may mean we have more birds in our gardens in the coming breeding season because more survived the mild winter. It is a great time to give nature a home by putting up a nesting box and supplementary feeding."
Last year's survey found that the freezing start to the year had resulted in an increase in the species that are not commonly seen in back gardens, such as siskins, fieldfares and jays, driven out of the countryside in search of food.
Species that benefit from extra help have climbed the rankings. Just 10 years ago, goldfinches were in 14th position, but scientists believe that the increase in people providing foods like nyjer seed and sunflower hearts in gardens may have contributed to their increased presence.
However the RSPB is concerned by continuing decline of species including starlings and song thrushes, whose numbers have dropped by an alarming 84 and 81% respectively since 1979. Both species are on the UK "red list", meaning they are of the highest conservation concern.
The results showed that the decline of the house sparrow appears to have slowed, and it remains the most commonly seen bird in UK gardens. However, this species also remains on the red list with a 62% decline since 1979.
Martin Harper, RSPB conservation director, said: "Many garden birds rely on us humans for help. During winter, birds need extra food and water, and at other times of the year, as well as sustenance, a safe place to shelter and make their home can really give them a boost.
"Two of the species that moved up the rankings this year, blue tits and goldfinches, are adaptable, friendly garden birds and great examples of birds that can flourish with our help. If we put up a nestbox, leave out some food or let our gardens grow a bit wild they'll be among the first to take advantage."