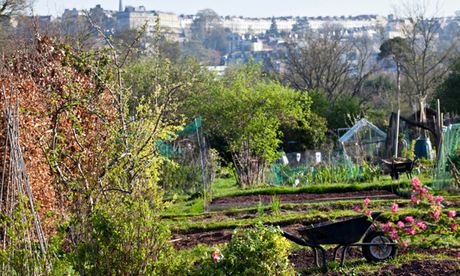 Allotments are abundant in Bristol and more are being added. Photograph: Alamy
Bristol will be European Green Capital in 2015. Among other – fairly major – features, this means it's rather nice to be here.
When I first arrived from the frozen north some 30 years ago it seemed a remarkable city – very close to some of the best countryside: Mendips, Quantocks, Cotswolds, Black Mountains and with many internal green spaces.
Some of the latter have gone, chipped away by the odd supermarket here, infill housing there. Large gardens – considered as brownfield sites – have been built in, front gardens paved over to protect street-parked wing mirrors.
In this respect, it's the same as any UK town or city.
Despite it all, the place still seems to be thriving horticulturally. For example, there is one of the highest proportions of allotments per head of population in the country and, due to the vigour of the council's allotments office, more are being added.
Bristol won Britain in Bloom in 2011 and was a finalist in 2010 and 2013. We had a year off in 2012. Street trees are appearing rather than disappearing.
It may be too much to say that the residents of Bristol are more garden-oriented than anywhere else, but they certainly seem to like a challenge: with a soil that is generally high enough in clay to trap a water buffalo, and with topography that doesn't seem to deviate much from 45 degrees, it makes it all much more exciting.
I teach horticulture in Bristol. I can't think of a better job – combined with time on the allotment, that is. The students are adults and really want to be there, making the task so much easier. OK, so I may indulge in a little light twerking to keep their attention, but generally they are enthusiastic and thrilled to be involved in Growing Things. RHS courses and organic gardening classes are usually fully subscribed.
I'm a bit sad I haven't got the skill to inspire young people, because they need it to overcome the derision and low wages in the industry. NVQs and BTECs in horticulture have declined. It appears that gardening is just not cool for teenagers, whereas it is the bees' knees for five-year-olds and everyone over 20 (including blokes in their fifties).
Perhaps the answer to this general horticultural excitement in Bristol is as it is anywhere: gardening is the escape from the rest of life – the reconnection with our genetic inheritance of gathering and cultivating and being amongst plants.
• Tim Foster is the author of Good Earth Gardening, which is available post-free from pomegranatebooks.co.uk and all good bookshops and online book retailers