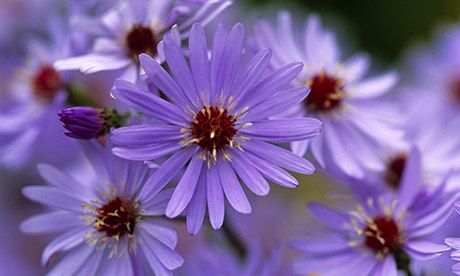 Purple reign: the soft violet Aster cordifolia 'Little Carlow'. Photograph: Mark Bolton/Getty Images
Last month I made a trip up to northern Connecticut. The road from Manhattan to my client's property took us diving through woodland for at least half the journey, weaving alongside a wide, rocky river that came and went as we drove in and out of the shadows. The previous time I had been there, in April, the woods were leafless and your eye was free to pass over the hills and huge boulders.
This time, the woods were dark with growth but the ground was shimmering with the white wood aster. Aster divaricatus is one of my favourite plants in dappled shade, where it is unusual among woodlanders for blooming late in the season. There is nothing like seeing a plant in the wild to understand its habits. Here, it was running free among the tree roots, and wherever there was a break in the moss the tiny white flowers foamed bright among shuttlecock ferns.
Back home, I was delighted to come upon an aster specialist, Le Domaine de la Source (ledomainedelasource.fr), which I saw exhibiting at Great Dixter earlier this month. Few autumn flowers provide a gentler way to pick up where summer left off and inject a new energy into the garden as it moves into winter. The stand showed flowers ranging from bright white through pale pink, lavender and blue. But there is more to the aster than simply its colour. The flowers are nectar-rich and provide a late feed for butterflies and bees.
You will have to make room for them in the border while you are waiting for their moment, but the asters' summer contribution is valuable. They provide structure while quietly building strength, and will cover for plants that have come and gone.
Our railway embankments and wastelands see the most vigorous of the tribe jumping the garden fence, where no doubt they were tossed for mildew and bad behaviour. But there is a host of reliably clump-forming asters that can be relied on to hold their position and not succumb to mould. Of the shade-tolerant forms, A schreberi is worth seeking out, with white rays of flower not unlike A divaricatus but larger and more upright. A pyranaeus "Lutetia" is another variety that can take a little shade, flowering in September with soft lilac flowers and a gentle upright habit. "Primrose Path" is considerably later, flowering in October with tiny mauve flowers and reddish foliage.
If you go to Great Dixter in autumn, you will find A lateriflorus "Horizontalis" in full flower, lining the paths. It keeps a tight framework of bronzed foliage which branches out widely at about knee height. A lateriflorus "Prince" or "Lady in Black" are taller, about 3ft, and famed for their plum-purple leaves. All have a myriad of tiny soft mauve flowers.
For darker foliage still, A laevis "Calliope" is one of the most dramatic, with a large flower of neon violet-blue surrounding a golden centre. Team them with the softer violet "Little Carlow" and they will hold your attention until the chaos of autumn is over.