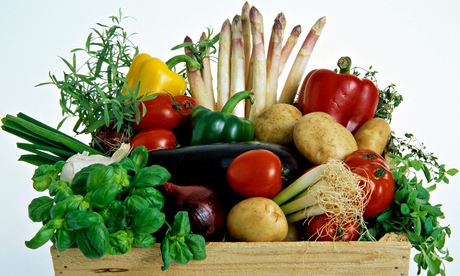 'We have been getting teachers to understand the importance of putting local food right at the heart of the curriculum.' Photograph: Alamy
Now, I have never been fond of the empty catchphrase. Easy on the ear but completely without form or substance. Such was the term "big society".
Who wouldn't sign up to us getting on with building a kinder world and taking responsibility for giving something back to our community, putting ourselves out for the greater good? A bit like Mr and Mrs Halsey of Cheshire, but more of that later.
That's what people in Todmorden and 60 other places across the UK have been doing under the banner Incredible Edible for the past seven years, helping people to understand that we can all have happier, healthier lives without cheques dropping through our letterbox or policy documents coming out of our ears, simply by using the language of local food.
We at Incredible Edible have been taking three simple steps. We have been planting up our public realm – and please note the word public – with things we can eat, to demonstrate what we can all grow for ourselves in our front and back gardens. We have been getting teachers to understand the importance of putting local food right at the heart of the curriculum, whatever the subject. And we have been supporting our local food market and small shops through the power of the pound in our pockets. It's not rocket science, but it means we all have a chance to be part of tomorrow's solutions, not problems.
We call the edible town centre sites our "propaganda gardens". It means starting conversations about something that connects us all: the food we eat. It means paying particular attention to the land around hospitals and health centres where an edible landscape is likely to be a bit more understandable, not to mention tastier, to the family visiting the clinic for whatever reason, than the expensive and short-of-the-mark "eat five a day" campaign. It also means the wonderful raised beds full of sweetcorn in front of the police station where passers-by chat to the local constabulary with smiles on their faces and which contribute to the reduction in vandalism in this northern market town. People just don't vandalise food.
Of course, we didn't always ask for permission. We turned a horrid grass verge that had become a dog toilet into a herb garden with our own effort and money. We created signs that say "food to share", which is the ethos behind all our propaganda gardens. It's our gift. Why on earth should we ask?
The most amazing thing is the response of our local authority and other far-sighted councils across the UK. They know they don't have the maintenance budgets they once did. So what better than to encourage citizens to grow food across the public realm, or putting all spare land on a website so people can see where they can grow near to their homes, or setting up a licence so people know the rules? Or getting staff to support their residents in making their town more edible and, by doing so, improving relations, getting people more active and encouraging people to just get on and show a little initiative in their own town, just as we did years ago on that grass verge?
Speaking of grass verges brings me back to the Halseys. Cheshire is not a part of the world I know well, but judging from recent pictures, the flower beds planted up by the Halseys to celebrate the millennium seem to have brightened up a rather boring stretch of their own town. Now I might have preferred to see a bed of strawberries, a good show of bronzed fennel and a rainbow display of chard as part of the mix, but that's not the point. These two local residents created something rather lovely as their gift to their community.
With sad, bad news raining down on us like a May cloudburst, their endeavours brings a smile to my face and a real sense of pride in the power of small actions that really can make the world a much kinder, happier place. So from my point of view, all power to your elbow, Mr and Mrs Halsey. And long may your flower bed flourish.