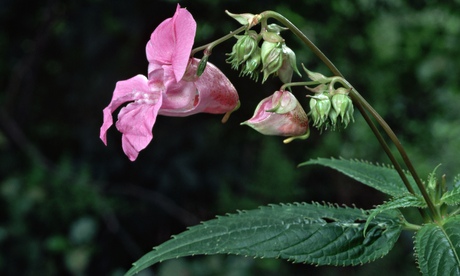 The invasive Himalayan Balsam flower is not allowed to be released into the wild. Photograph: Tony Wharton/Frank Lane Picture Agency/Corbis
I was once attacked by a giant hogweed. I had managed to avoid being pummelled by security guards during a protest against the M3 extension through Twyford Down, near Winchester, but got home to find a strange, tender patch on my knee. Three days later the blister was so big that a skin specialist took photos for a textbook; it was classic giant hogweed damage. The sap is phytophototoxic, it affects the skin's ability to absorb UV and so you get massive, localised sunburn.
Giant hogweed was introduced as an ornamental plant in the 19th century. It is large, as the name suggests, growing up to five metres tall, and has spread effectively along the roads and canals of the country. And it was one of a select bunch of invasive species, including Japanese knotweed and Himalayan Balsam, listed in the Wildlife and Countryside Act 1981, prohibiting their release into the wild. The list was extended in 2006, but the key phrase "causing to grow in the wild" is so fuzzy that the legislation has never been tested.
Botanical conservationists at wild plant conservation charity Plantlife have been campaigning for more vigorous controls on invasive species, and on 1 April there will be a ban instigated on the sales of five species of aquatic plant, including New Zealand pigmyweed and floating pennywort.
This is important because the risks of invasive alien species are far greater than the damage caused to my knee. They have the potential to destroy ecologically sensitive sites and cost the EU around €12bn a year; the European parliament is debating stricter rules. But these rules have caused the Royal Horticultural Society to worry that it would potentially criminalise gardeners for growing banned plants.
Will they be prosecuted for cultivating a beautiful array of rhododendrons?
"There needs to be some caution when legislating on this issue," says Dr Trevor Dines from Plantlife. "There is one rhododendron species that we are very worried about – the hybrid Rhododendron x superponticum – but all the others can be safely grown in gardens. However, gardeners do need to take responsibility to stop plants escaping. Ultimately, public money is paying for the removal of invasive plants, so let's close the loop and stop the worst being available for sale."
But why be so worried? Britain is flooded with plants that are alien; most of the food grown here originated elsewhere and, thanks to our intervention with saw and plough, those invasive plants have taken hold of vast swaths of the country. Where should we draw the line? Thankfully there are scientists like Dines informing the debate.
"Clearly we cannot return Britain to the floristic diversity left by the retreating ice 10,000 years ago, and the vast majority of alien plants are benign and even welcome additions to our flora," he says. "But the pockets of rare and wild species already threatened by development and climate change really don't need the additional burden of alien invasive species. Beautiful and ancient plants, such as spreading bellflower, could become extinct in some places through the escape of variegated yellow archangel from gardens. If we didn't plant it, it wouldn't escape."
And while I am keen not to come across too Daily Mail on this matter, there are a few illegal aliens I would love to see the back of, in particular the giant hogweed. Twenty years later, the scar is still visible.