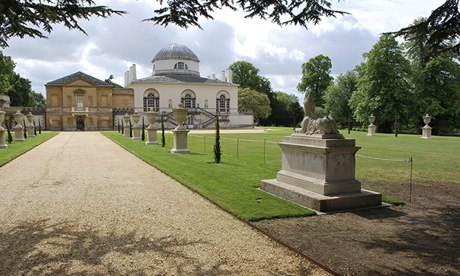 Edward Fawcett was a driving force behind the £12m restoration of Chiswick House and it gardens, in west London. Photograph: Jan Woudstra
Edward Fawcett, who has died aged 93, was a promoter of garden history and conservation, and was responsible for transforming the National Trust. Ted joined the trust in 1969 as director of public relations and used his experience in business and the military to change it from an old-fashioned coterie into a national concern. By the time he left in 1984, membership had increased from 170,000 to well over a million; the previously often aloof property managers had been encouraged to welcome visitors and recruit new members; there were cafes and shops with approved merchandise; and the trust's finances were secure.
Ted was born near Glasgow and brought up in Harrogate, North Yorkshire, the son of Harold Fawcett and his wife, Una. His father came from a Bradford milling family and was an anti-submarine warfare specialist in the Royal Navy. As a boarder at Northaw school, Hertfordshire, and later at Uppingham school, Rutland, Ted developed interests in natural history, particularly birds and plants.
After three months in Paris learning French, he had a brief stint in Glasgow as an accountant. He joined the navy before the second world war, first serving in motor launches in Gibraltar and then spending the rest of the war in Escort destroyers. He was involved in Operation Pedestal, serving on HMS Bramham. It towed the stricken tanker SS Ohio into Malta, and so ensured delivery of the fuel needed by the besieged island.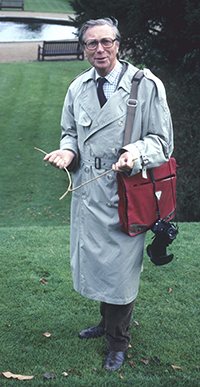 Edward Fawcett dowsing at Hampton Court. Photograph: Jan Woudstra


After leaving the navy in 1947 there was a stint at Shell and another at Joseph Lucas, a producer of car electrics, where he ended up as overseas director. During this time he was looking for opportunities to bring him closer to his interests in history and gardens. He joined the Garden History Society (GHS) soon after it was formed in 1965 and in 2011 he was made vice-president.
He maintained that his real career started only when he arrived at the National Trust in 1969. He furthered his interest in garden conservation and the following year joined the gardens panel of the trust, which helps to maintain standards and advised on upkeep. Inspired by his new vocation he organised the first foreign garden tour of the GHS, to France in 1971, and became the chairman of the organisation in 1973. He retained this position until 1976 and did a second stint as chairman from 1988 to 1995.
Ted joked that he knew enough about administration to ensure that there were notes and agendas, but his real strength lay in his abilities to charm and encourage people to help and work beyond what they normally would do. This led to various partnerships, such as with Gordon Ballard, an architect, who helped him in the administration of a residential course on the conservation of historic gardens at West Dean College, in West Sussex, run every summer between 1978 and 1984. He later set up a postgraduate course in garden conservation at the Architectural Association, in London, where we worked together.
On his retirement from the trust in 1984 he was made an OBE. He continued to maintain responsibility for the management of the trust's Osterley Park and House in west London. At the same time he also became concerned about the neglected state of Chiswick House Grounds, his local park, owned by the London borough of Hounslow and English Heritage. He became the first chairman of Chiswick House Friends in 1984. This was the start of many years of engagement in political processes that ultimately led to a £12m restoration project in which he remained actively engaged.
In 1986 Ted set up a part-time graduate diploma course in the conservation of historic landscapes, parks and gardens at the AA which commenced a year later for some 20 students, most of them well qualified professionals, with outside lecturers providing the majority of the contents with respect to garden history and conservation. Ted led this until he handed it over to David Jacques in 2000, but stayed involved till 2002.
Another of Ted's interests was dowsing, which he was keen to explore in historic landscapes. Rather than the mystical approaches with which dowsing is associated, he used it in successful searches for lost features, including parterres and foundations of walls in formal gardens, and to explore prehistoric stone circles in England and France. He was not able to finish writing up his experiences with dowsing prehistoric landscapes and only a few areas have subsequently been excavated.
In his final three decades he found time to write poetry, published privately and circulated to friends for Christmas. This was filled with good humour and enabled one to follow his rambles through historic landscapes and his philosophy of life. In all this he was very much of that generation of great amateurs that characterised Britain during the 20th century. His aristocratic demeanour and joie de vivre were combined with a sense of humour and an ability to discuss issues in an intelligent way.
Ted met Jane Hughes just before the war; they married in 1947 and had two children, James, an experimental neurologist, and Carolin, an opera singer. They all survive him.
• Edward Charles Richard Fawcett, conservationist, born 22 September 1920; died 19 October 2013