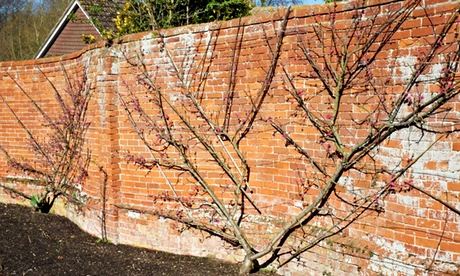 Fan-trained peaches in Tom Hoblyn's walled garden. Photograph: Tom Hoblyn
Saturday
Pruning the fan-trained peaches is highly satisfying; now in their seventh year, we are now reaping the rewards with bagfuls of peaches in summer. It hasn't been an easy journey though: initially, I planted two-year old trees, thinking that the more mature plant would fast-track to a completed fan. Wrong. The main issue being that the older wood is less likely to "break" (sprout new growth) and produce two perfect laterals from which to train in the fan. Instead I had to work with whatever would shoot, resulting in lopsided fans. Not like the RHS Pruning and Training pictures at all. Even so, here we are years later, with well-furnished and productive fans.
I imagine that this year will be a bad one for peach leaf curl, owing to the wet winter, and therefore likely to reduce yield. It is probable that the fungal spores have colonised all trees in the winter, easily spread by wind and rain, and are primed to infect the leaves. Infection causes a puckering of the leaves, hindering photosynthesis and therefore vigour. The easiest control is prevention by screening the tree from the fungal-laden elements in winter. A simple framework that will hold some sort of barrier, for example polythene, is the best. However our wall is wavy (AKA crinkle-crankle) making for some difficult concave frame building.
After pruning today, I was sure to clean up and burn all debris and will adopt a vigilant leaf curl spotting regime, burning any infected leaves as they develop.
Sunday
A blissful weather-induced greenhouse day was spent sowing and pricking out seedlings. I favour heritage varieties selected for taste and avoid hybrids and mainstream types where possible. I either order new seed via mail order or seed save and swap with other gardeners. I am horrified about the EU directive aimed at controlling what we may be able to grow in the future – can you imagine not being able to legally exchange seeds without a licence? I urge you to lobby your local MEP to help prevent this insanity.
Monday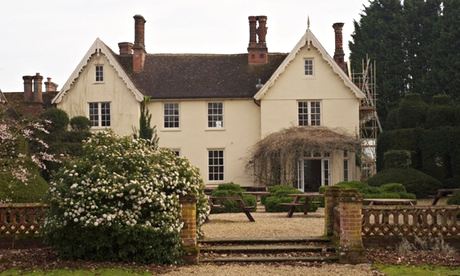 Renovation is under way at the Oaksmere hotel in Brome, Suffolk. Photograph: Tom Hoblyn


I am on site to begin work at the Oaksmere Hotel in Brome, Suffolk with the new topographic survey, familiarising myself with the terrain. I use it to identify features such as prevailing winds, road noise, and important vistas and so on. I also take a few soil samples; though initial findings indicate a sandy acid soil, it is good to see if we will have any deficiencies that may hinder plant choice. The seventeen acre garden seems to be one giant warren and rabbit fencing will be a costly necessity. Other fauna consist of a large rookery in the lime avenue that I find rather reassuring in an ex-dower house.
The original house was built in 1561 for the Cornwallis family to accompany their Brome Hall estate. However it was drastically altered in the mid 19th century to create a rectory and has a definite Tudor/Georgian mix in the architecture throughout. In recent years it was a chic hotel but is now under new ownership and our client wishes to inject new life into it.
Tuesday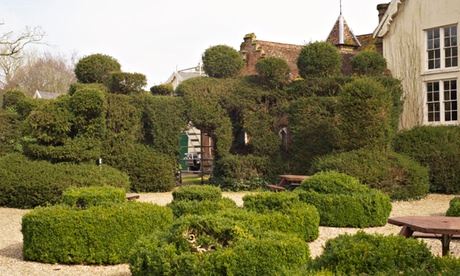 Time for a trim: unruly yew topiary at the hotel. Photograph: Tom Hoblyn


The owner wants to get the Oaksmere Hotel open as soon as possible. Or at least parts of it; it is a pub, restaurant and hotel. First to open will be the pub, then the restaurant and last of all, the hotel. Therefore we are to quickly start work designing the terrace intended for summer dining and drinking.
At it stands, the terrace is down to uneven gravel, flanked by some magnificent yew topiary in dire need of restorative pruning. The terrace must comfortably house ten tables in a clean-lined and chic way yet preserve the historic spirit of the place i.e. not look like a generic suburban restaurant terrace.
Mad brainstorming of ideas sketched on canary yellow tracing paper is our preferred working method. We try to creatively tap into some sort of vein associated with the project, be it triggered by history, existing features or patterns – anything really. One method is to note down the exact words that immediately come to mind when seeing the site for the first time. In this case it was "cawing rooks", "imposing" and "lost". Then use this to nurture a sketch. At the end of the day, lots of bits of paper get thrown away as a ruthless short listing ensues in the studio. We are left with three workable ideas that respect the existing topiary yet provide a clean-cut terrace to satisfy the brief. A symmetrical solution to take advantage of the beautiful avenue is impossible, so we create a kind of faux-symmetry.
Wednesday
The three ideas are worked into sketch proposals – sketchy ideas presentable to the client to illustrate our intentions; the idea being to get some client feedback before we go too far into a full all singing and dancing concept.
By lunchtime, one idea fell by the wayside, deemed too boring. The two remaining ideas, one quite classical, the other a bit more contemporary, were tidied up and bolstered with supporting images to help clarify our intentions.
Thursday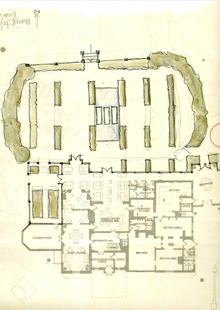 I attended the first big meeting to present the sketch proposals. Along with the owner, the team is made up of the architect, hotel manager, chef, bar person, administrator and builder. The two proposals were presented and although both were well received, the classical solution was considered a better fit. It is always difficult to judge people's reactions; some clients are vocal and quite happy to tell you straight. Others have a fear of offending you; sometimes all you have to do is monitor the body language. In this instance I notice a certain relaxation in the room as the team 'get' the idea and visualise it working in relation to the hotel.
As often with these quick turnaround jobs, the whole project rapidly evolves and we are constantly playing catchup. In this case a request had gone into the architect to fit more tables into the dining room, there are also some fire escape issues to resolve, both of which means tweaks to our terrace. Either way, we can now start the conceptual drawings properly as we have a clear indication of the direction to head.
• Thomas Hoblyn is a landscape and garden designer. This is the latest in a series of posts on the ups and downs of a life spent creating beautiful gardens.