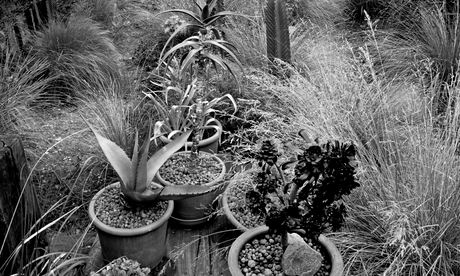 A London garden: 'One needs to aim at a kind of outdoor room.' Photograph: Andreas von Einsiedel /Alamy
The odds against the city gardener are soot, lack of light, sour soil, draughts, overhanging trees, cats in the back and dogs in the front, greedy sparrows, despondency and the false idea that you can get the same sort of effect in a town garden as in the country.
On the bright side are space constriction – in a cat-run there is a decent limit to endeavour; plenty of wallscape – many town gardens are like walled-up boxes with the lids off, and more warmth in winter, so that passion flowers, yuccas and pomegranates flourish and flower. One needs to aim at a kind of outdoor room – something to be enjoyed on summer evenings, or contemplated from the house, seen from a balcony or through an open window.
I have just visited a remarkable oasis, entombed behind high walls in SW1, which commands not much more floor space than a London drawing room. In a corner of the "main" paved garden, a mossed-up river god is spewing a trickle of water from his urn into a goldfish tank. There are Sicilian pots, palms with clematis weaving up their fibrous stems, a curtain of vines 30ft high, the self-clinging Vitis henryana with its marble veining, V cognettiae, heavier-leaved, and the "American" vine.
The owner has several things to say to town gardeners. He thinks that a town garden could perfectly well consist of a pattern of paving (he abhors crazy paving), a tree, some iron furniture and a few pots. It should be labour-saving. You do not need grass.
The floor pattern can be made with secondhand granite setts, cobbles set in concrete, circles of concrete cast in wheel rims, old bricks laid on edge, combined with smoother intervals of stone. Slates and tiles can also be used on edge for smaller scale effects.
There is a little paved public garden of this kind in Kensington Church Street that might serve as a handbook in paving technique. A new garden off Exhibition Road offers a different line of thought. Here, carefully selected perennial plants – bergenia, stonecrops, dwarf lavender, little maple combined with rocks and pebbles – are confined in large concrete squares, architectural extensions of the plant-box idea, arranged in a staggered pattern.
Use plants that genuinely mean to live, such as ivies – there are at least 14 varieties in the wizard's garden – and specie hydrangeas, not the show-off blue-flowered kind, but H quercifolia, H Sargentili and climbing H Petiolaris. Do not be sold on evergreens. If you do have them, plant handsome-leaved fatsia japonica, a camellia in a peat-filled pot, fresh-leaved choisya, or olearia haastii, whose grey-green foliage recalls the olive.
According to this city gardener, who has achieved amazing things in an almost completely shaded garden, the most important factors are soil (better to remove existing soil down to two feet and replace it with the best top-spit loam), watering and ruthless pruning.
This is an edited extract