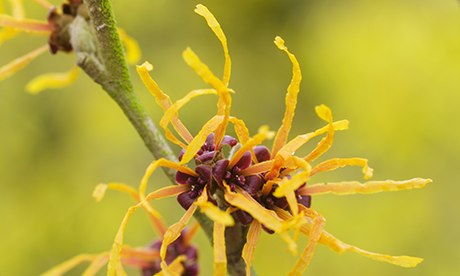 Sunny side up: cheery Hamamelis 'Jelena'. Photograph: Mark Bolton/Corbis
A winter flower is to be treasured for its scarcity and, as you move through a garden in slumber, it is a point of wonder that anything can brave the season. I ask myself why and how, for pollinators are mostly hibernating, but I soon cease the questioning for the joy of the unexpected.
In a mild year the first of the witch hazel are out at the beginning of winter. They wriggle free from rusty buds the texture of suede and in the warm spells gather in number along bare branches. The rays of the petals never quite lose their crumple and this is part of their charm, one overlapping the next in a mass of tiny explosions. My neighbour used to bring a branch of Hamamelis mollis into her kitchen to watch this unravelling up close, and this was when I first fell under its spell, as a 10-year-old. The bush was backlit gold by low winter sunshine. When you stepped outside to see it, the air hung heavy with its perfume.
My fascination for witch hazel has never dimmed, and it is good to know that it won't. Every winter I fine-tune my favourites. I grew "Jelena" for years in a pot in my garden in Peckham in southeast London. It came into flower as early as Christmas and often continued into February. The season actually starts in the autumn with the true medicinal witch hazel – H virginiana is an American native, but here it is rarely grown, for its tiny pale flowers are insignificant among buttery autumn foliage. I came upon it this year when visiting a client in Connecticut, detecting it first by its perfume and then by pushing through the undergrowth. It will stop you in your tracks; the smell is sweet and a bit zesty. I am using it at the head of a drive in a woodland garden as a welcome for those arriving on foot.
The Chinese H mollis is the most scented of the winter-flowering witch hazels, but the cross between this and H japonica has yielded the greatest of the named varieties. Go to a national collection this winter to see the varieties of H x intermedia which range from pale, icy yellow through gold to rust and on into deep moody reds. They are the way to go if you want the choice and, though less scented, most offer up enough when their flowers are firing en masse.
All the hamamelis benefit from being backlit by sunshine, the reds and oranges glowing like embers, and the yellows flaring as bright but oh so much more finely than forsythia. Some hybrids keep their dried foliage in winter to hide the best of the flower, but they grow out of it. Several colour wildly in the autumn.
Hamamelis live a long time and, as they are slow to come of age, I have started a collection of my favourites so in the future I can have a little glade. "Barmstedt Gold" is one of the best yellows. I am after warmth and fire, and the rusts and oranges will be provided by "Aphrodite", "Vesna" and "Gingerbread". The search goes on, and so it should for you if you feel in need of a lift in the dark months.
Get growing

Hamamelis prefer acid to neutral soil, though they can tolerate alkaline soil if given moisture and plenty of organic matter. A cool position or dappled sunshine suits them best, but they are also adaptable and happy in sun with moisture at the root