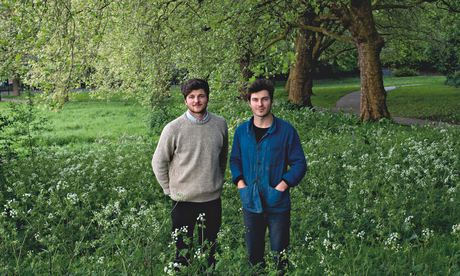 Harry and David Rich: 'We want to make a very naturalistic space.' Photographs: Sophia Evans for the Guardian
Chelsea flower show's Main Avenue is usually home to flashy show gardens dominated by big names. But for 2014 this illustrious stretch of horticultural real estate is playing host to a lively bunch of newcomers. Here are the ones we're most excited about.
Hugo Bugg: the RBC waterscape garden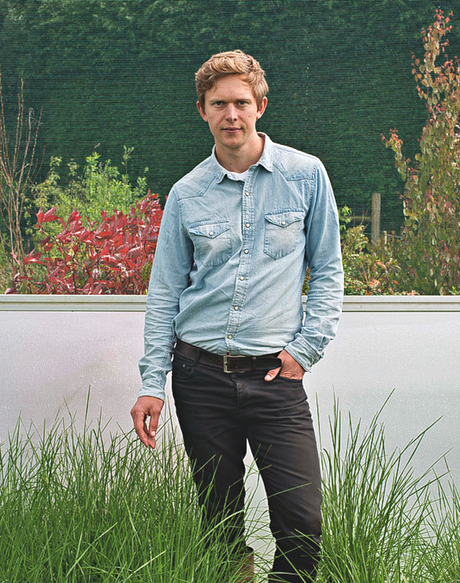 Being the next big thing can be a burden, but Hugo Bugg is taking it in his stride. He won the RHS's Young Designer of the Year award in 2010, and now, at 26, comes of age with his garden for the Royal Bank of Canada Blue Water Project. "All designers aspire to show here," Bugg says.
His waterscape garden highlights global water issues: "It's a beautiful garden with a strong message: [it] mimics nature's way of slowing down water, encouraging infiltration into the ground and taking pressure off urban drainage systems."
He adds: "Even within the brief time I've been a designer, styles and inspiration have evolved. There is a greater emphasis on using materials from sustainable sources. I'm excited about the prospects for pushing boundaries further." But for now his eye is firmly on the prize. "My aim is to receive the highest accolade available. I'm up against big names, but I'm really competing against myself to ensure this garden is of the highest standard possible."
Both in their 20s, Harry and David Rich created an artisan garden at Chelsea last year (at the time, younger brother David was studying landscape architecture at Leeds Metropolitan University) and have been bumped up to Show Garden status this year. "We want to make a very naturalistic space," says Harry of their night sky garden for Vital Earth peat-free composts. "It is sympathetic to a landscape we know well and depicts its textures and materials." The brothers grew up in the Brecon Beacons and will use dry stone walls to create "rooms". Their garden's central feature will be a grass star-gazing pit, there will be reflective pools and the planting will evoke the Milky Way. "We have three weeks to make it look like it's always been there."
Harry relishes the challenge: "We feel honoured." And both are enjoying the sense of vitality this year. "It's exciting to see new faces," Harry says. "It's great to be part of this new, younger generation."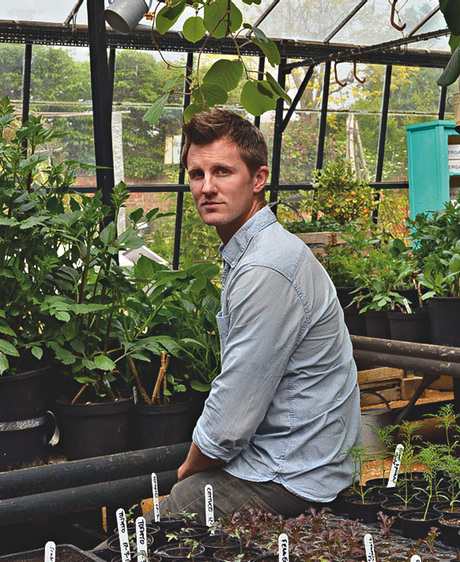 "If I had time to stop and think about being on a stage with the country's leading designers at the world's most famous garden show, Chelsea would be daunting," Matt Keightley says. "But I haven't had the luxury." He has been designing since he was 17, "when my folks wanted their suburban plot transformed and I took it on".
Now 29, he is creating the Hope On The Horizon garden for the David Brownlow charitable foundation. "It represents the path of recovery by wounded, injured and sick military personnel." The layout will be based on the military cross: "Granite blocks will represent the soldiers' physical wellbeing and the planting their psychological wellbeing at various stages of rehabilitation. An avenue of hornbeams should draw the eye to a sculpture representing the hopeful horizon of the garden's name.
"I'd be thrilled with any award," Keightley says, "but I have my heart set on gold, best in show and people's choice – aspiration is key!"But there are other rewards, too. "We will be rebuilding this garden in the grounds of a Help for Heroes recovery centre in Colchester, where it will be used by the residents. That's the icing on the cake for me."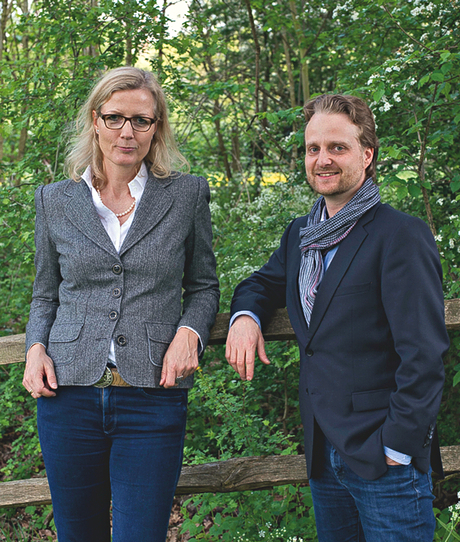 First-timers Nicole Fischer (one of the few women to make it to Main Avenue) and Daniel Auderset came to garden design after other careers, she from her Munich casting agency, he from telecommunications and healthcare. Both ended up at Inchbald School of Garden Design, where they became friends. "It was Daniel who first dared to think aloud and to suggest we create a show garden together," Fischer says. Auderset had been a keen gardener for some time: "I've visited [Chelsea] many times and seen some of the world's best designers create incredible gardens. So it has been a long-held dream to create my own garden here, and now it's happening." Their style is modernist – clean lines, limited materials and colours – and their Extending Space Garden takes inspiration from the Swiss Pfyn forest; they hope to capture the essence of that landscape in a small, urban space.
"The region is one we have both visited and we both love pine trees," Daniel says.
They also have more at stake than other newcomers: they were moved up to Main Avenue in autumn, so "were too late to get a main sponsor. We're funding it almost entirely ourselves," Fischer says. "It's a risk, but one worth taking to showcase our work at the highest level."
"You begin this road to Chelsea with great excitement about what you could achieve," Daniel says. "As the project develops and you meet the different nurseries, suppliers and contractors it is quite humbling and the reality and enormity of the task dawns on you. Now our expectations and hopes are that we just don't embarrass ourselves!"
Mattie Childs: the Brewin Dolphin garden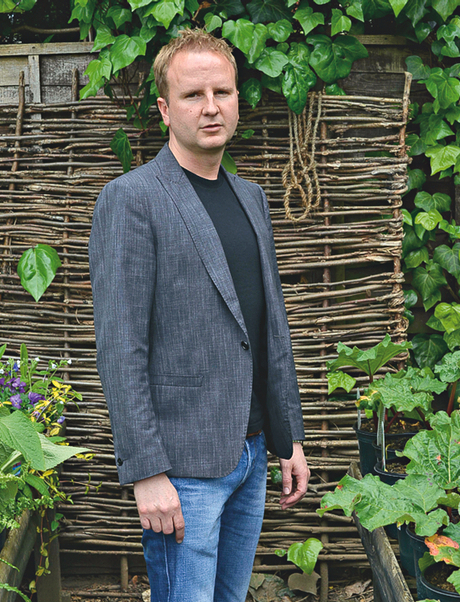 "My head and heart have always been in the garden," Mattie Childs says, "but I never imagined I'd make my living from it. I spent 10 years suited and booted [he worked in advertising], but in 2005 I was injured in the London bombings, which made me rethink my future."
A 2007 visit to Chelsea put garden design on his radar and he set about gaining a professional diploma from KLC School of Design. He cut his teeth on show gardens at RHS Hampton Court Palace flower show, where he won two gold medals in two years, and relishes the chance to step up. His tranquil garden for Brewin Dolphin will feature copper arches and greens and yellows suggestive of a spring morning. "I want to capture a sense of anticipation, and the idea that from the darkness of winter comes light and possibility."
But he's under no illusions: "I expect the Chelsea experience to be an intense, adrenaline-packed, exhausting rollercoaster. I'm expecting to work really hard, but I also know I'll enjoy every minute. I have 22m by 10m of amazing plants and materials to play with. Heaven!"