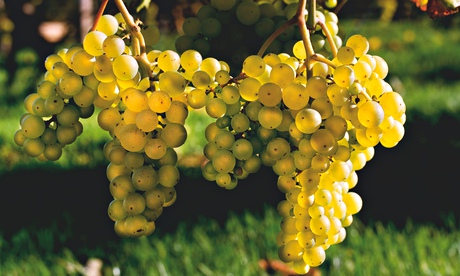 Try 'Seyval Blanc' grapes for a still or sparkling wine. Photograph: Alamy
Five years ago I planted a grapevine. I had room in my garden for just one, scrambling up and over a pergola. So this grapevine had to look good, provide shade, have gorgeous autumn colour, but above all to produce delicious fruit. I settled on 'Boskoop Glory', said to produce good crops of dessert or wine grapes outdoors, and to be a bit of a wow in the autumn foliage department, too. It did everything it was meant to do, except – crucially – produce grapes. They look promising early in the year, reach pea size in summer, then wither. This has happened whether I've tended or neglected it. I must admit I have picked a duffer. It's been a slow-to-manifest mistake, and a permanent one: the vine does a lovely job of casting shade over my deck, so it would feel ludicrous to rip it out.
With this disappointment fresh in my mind, I spoke to three expert vine growers to find out which cultivar I should have planted. Stephen Shirley is co-owner of Victoriana Nursery, which sells both edible and ornamental vines; Mark Diacono has a 3.5-acre vineyard in Devon; and Ingrid Bates has one in Somerset and cares for several others. This lot know their grapes. It's too late for me, but make sure you pick the best cultivar for the job – and now's the time to plant it.
For fruit

Bates and Shirley suggest a cultivar that comes up again and again: 'Lakemont', a white, seedless grape with a hint of honey that is suitable for indoor or outdoor cropping. Bates also likes 'Ortega' for flavour. Shirley suggests seedless 'Flame' (red) and seeded 'Triomphe d'Alsace', while Diacono likes 'Muscat of Alexandria' for growing under cover, or 'Phoenix' for outdoors.
For wine

Diacono: "Don't bother much with reds – there just isn't enough sun. Instead, set your sights on making a sparkling or still white." He suggests 'Lakemont' and 'Seyval Blanc'. Bates's favourites are 'Madeleine Angevine' 'Seyval Blanc', and 'Reichensteiner': "All of which – UK grown – make internationally award-winning wines."
For leaves

I make dolmades with the young leaves in early summer. Later on they look dusty and unappetising, and Bates says it may be mildew. "The best cultivars aren't susceptible to mildew, so don't need spraying." She suggests 'Phoenix' (white), 'Solaris' (white) and 'Triomphe' (red). Shirley recommends 'Pinot Noir' or 'Pinot Blanc', which are easier to stuff and roll, because the leaves are less segmented.
For autumn colour

Shirley recommends the ornamental Vitis coignetiae, the crimson glory vine. It spreads over garden structures, turning purple, orange and yellow in autumn. If you want the best-looking of the grape-producing vines, go for 'Regent', says Diacono. Bates suggests 'Brant' and 'Black Hamburg', both ornamental and fruiting types.
Best all-rounder

Diacono goes for 'Lakemont', with its good fruit for eating or wine, and Shirley for 'Schönburger', a pale, plum-coloured grape with a high sugar content, while Bates chooses 'Pinot Noir': "The leaves go a nice colour in autumn and I love the grapes," she says. Not a 'Boskoop Glory' among them.
Pruning advice

Buy bare-rooted plants while they are dormant. Dig a hole a couple of feet across and the same depth, and mix the excavated soil with a good dose of organic matter before backfilling and firming down, planting the vine at the level at which it was originally grown. Water generously for the first year.
Bates suggests cutting back hard in the spring after the first year of growth to promote root growth. Shirley suggests spur pruning if you have a wall or structure to cover. Train the main stem up the wall, tying in side shoots (laterals) horizontally to the nearest wire as they grow, one per wire. Cut extras off. Once the laterals have grown as far as you want them to, cut off the ends of the branches. Sub-laterals will be formed off these and should be cut back to two buds. Prune back to this framework every autumn.
Reader Offer

Buy one 'Phoenix' vine in a 1.5-litre pot for £34.99, or in a three-litre pot for £39.99 (prices include free UK mainland p&p). To order, call 0330 333 6856, quoting ref GU172, or visit our Reader Offers page. Delivery late February to early March.