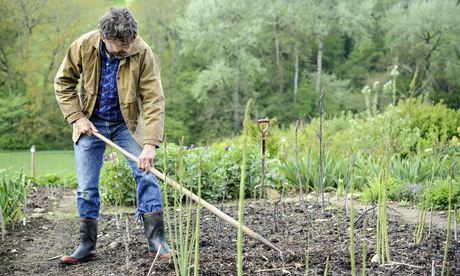 Shooting stars: Dan hoeing the asparagus bed. Photograph: Jason Ingram for the Observer
This year, the third year after planting my asparagus beds, I harvested my first crop. The spears were sweet and delicate and full of life, having just been snapped free of the ground. We were with my mother for this first crop and she recounted the beds they had in the vicarage garden she had grown up in. Though it was wartime, the beds produced so freely that the family never saw the asparagus as a luxury and mum recounted burying herself among the tall grown-out fronds where she and her sisters made camps on summer holidays.
An asparagus bed is an investment and acquiring an old one in an established garden is a luxury. Asparagus takes three years to establish enough strength before you are supposed to crop it, but if looked after well a bed can last a good quarter-century. The old vegetable books have pages devoted to the art of growing asparagus, with illustrations of raised beds which are double dug and manured deeply prior to planting. You will also find reference to salting the beds, and I remember my mother doing this at home.
My own asparagus bed was chosen for its sunny position and free drainage, and single dug with plenty of manure to prepare the bed well for a long future. As long as your ground is free draining, there is really no need for a bed to be raised in the old style but the inclusion of organic matter helps if you have a heavy soil.
A spring planting from two-year-old bare-root plants is the best option, placing them 18in between plants and 24in between rows. A yearly mulch and patience until they start cropping is key. Some traditions are best left in the past so forgo the salt in favour of hand weeding.
I have only taken spears from plants that are strong enough in this first year of cropping to enable the plants to build up reserves for the future. I have two varieties. "Connover's Colossal" is doing well but "Palace Purple" is weak by comparison and I shan't be using it again. Though deliciously sweet, the plants topple easily and have half the vigour. Asparagus is also good in the borders as a feathery foil, with female plants bearing red fruit like beads held in a net of yellowing autumnal foliage. I'll be moving my "Palace Purple" to the borders and replacing them with another good cropper.
Growing perennial vegetables such as globe and Jerusalem artichoke and rhubarb also demands a commitment to space. As with asparagus, rhubarb needs to build up strength so it is important to leave it at least a year to establish before cropping. "Timperly Early" is the first of my three crowns to start into growth. This year I was forcing it and cropping by the end of January. "Champagne" and "Victoria" are heftier plants with thicker stems but they are good to follow through.
Jams and rhubarb vodka, which you make much as you would sloe gin, are always good to find in the pantry so that the space the plants take in the garden earns its keep.