Camellia 'Winter's Snowman'. Photograph: Alamy
Great garden design amplifies all that is good about each season; so in winter, it's time to home in on white plants. A few ivory flowers or white-barked trees maximise the enchantment and quiet of the big freeze. We need time to chill – spring can wait.
Clematis 'Jingle Bells'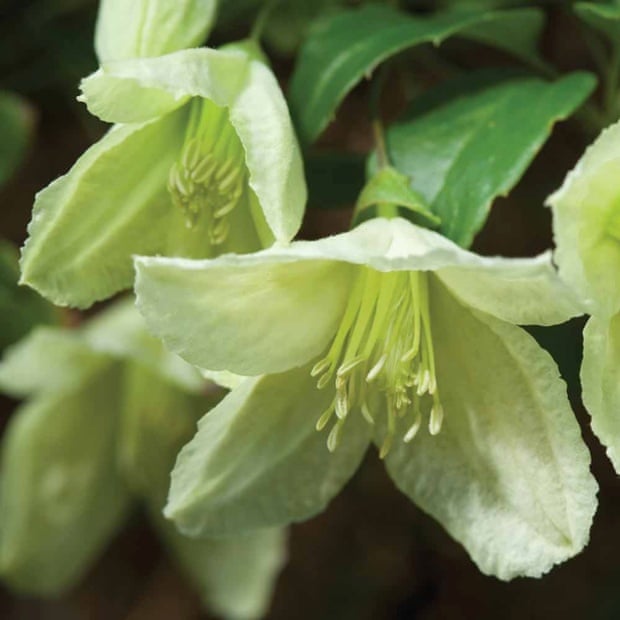 Clematis 'Jingle Bells'. Photograph: PR
This climber produces nodding, lemon-scented, ivory-white flowers from December to March. 'Jingle Bells' is a superb form of the evergreen C. cirrhosa; other good cultivars include 'Freckles', which has maroon-speckled flowers.
TLC 'Jingle Bells' doesn't require any pruning (hurrah). It is happy in well-drained, neutral soil against a sheltered, sunny wall or trellis; it will also grow in a container.
Height and spread 3m x 2m.
Grow through… A large shrub or a tree such as an apple or a pear, or around a doorway.
Buy from Order one potted Clematis 'Jingle Bells' for £9.99, or buy two for £14.98 (both include free UK p&p). To order, call 0330 333 6856 quoting ref GU268. Or shop online at theguardian.com/offers/plants. Delivery next month.
Camellia 'Winter's Snowman'
Frilly alabaster blooms coat this upright evergreen shrub from October to December. The glossy foliage is burgundy red when young and its flowers are scented and beautifully delicate.
TLC 'Winter's Snowman' makes a good hedging and topiary plant, but make sure you're not too ruthless with the shears, otherwise you'll see fewer winter blooms. Grow in a sheltered spot in semi-shade, in neutral to acidic soil.
Height and spread 2m x 1m.
Plant with… The sweetly scented Christmas box (Sarcococca hookeriana var digyna 'Purple Stem') or Rhododendron 'Christmas Cheer', whose pink winter flowers fade to white.
Buy from rhododendrons.com
Christmas rose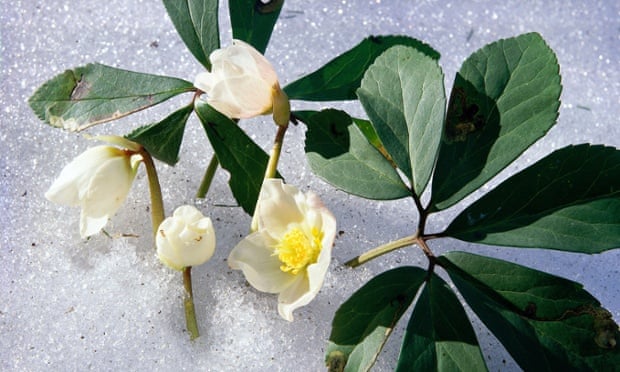 Christmas rose (Helleborus niger). Photograph: Alamy
The darling of the winter months, Helleborus niger produces saucer-shaped white flowers, which hover above its large, semi-evergreen leaves. Some gardeners remove this foliage during the flowering period (January to March) to better display the flowers.
TLC Plant in semi-shade, in a sheltered spot, in neutral to alkaline soil. Add a generous amount of leaf mould or compost on planting. Also looks great in lead planters.
Height and spread 30cm x 45cm.
Plant beneath… Deciduous trees, such as the Tibetan cherry (Prunus serrula), which has shiny copper bark.
Buy from burncoose.co.uk
Heather 'Whitehall'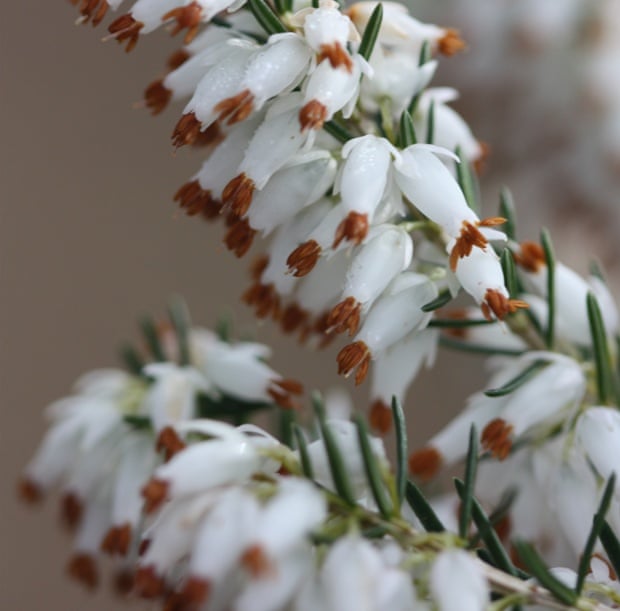 The milk-white flowers of heather 'Whitehall'. Photograph: Crocus
The humble heather, Erica carnea f alba, provides a mound of milk-white flowers from January to March. Its upright, compact habit makes this evergreen ideal for containers.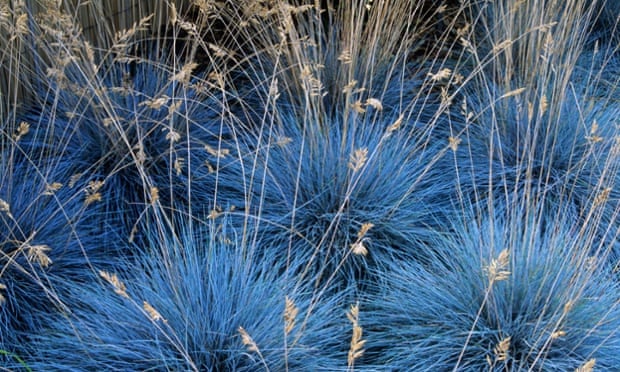 Festuca glauca 'Elijah Blue' makes a great companion plant for white heather. Photograph: John Glover/Alamy
TLC Most heather demands acidic soil, but this cultivar will tolerate some alkalinity, so it can be grown in most gardens. Plant in sun or semi-shade and trim after flowering.
Height and spread 20cm x 30cm.
Plant with… Low-growing silver and blue evergreens, such as Festuca glauca 'Elijah Blue' or Artemisia stelleriana 'Boughton Silver', in a sunny spot; or if you have semi-shade, plant with Juniperus squamata 'Blue Star'.
Buy from crocus.co.uk
White forsythia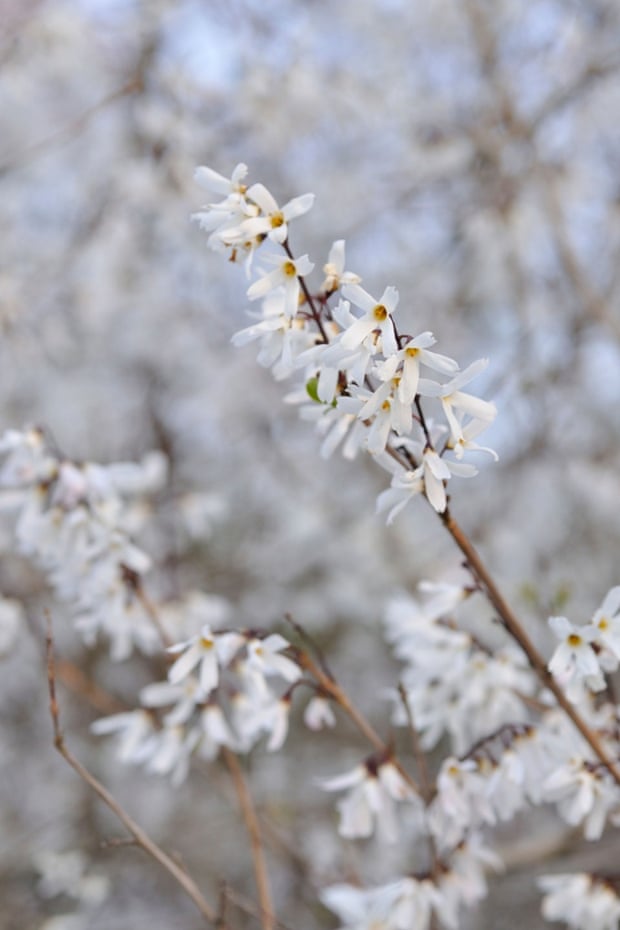 White forsythia (Abeliophyllum distichum). Photograph: Steffen Hauser/botanikfoto/Alamy
Abeliophyllum distichum is a dreamy deciduous shrub, far more elegant than the ubiquitous yellow-flowered forsythia (despite sharing a name, they're not related). Scented white flowers coat its bare branches between January and March.
TLC Train it against a sunny wall and prune hard after flowering. Dig in lots of compost if planting on clay.
Height and spread 1.5m x 1.5m.
Plant with… Grow alongside the deliciously scented Lonicera x purpusii 'Winter Beauty', a shrubby winter honeysuckle, or underplant with Algerian iris (Iris unguicularis), which produces pastel-purple flowers in winter.
Buy from bluebellnursery.com
Himalayan birch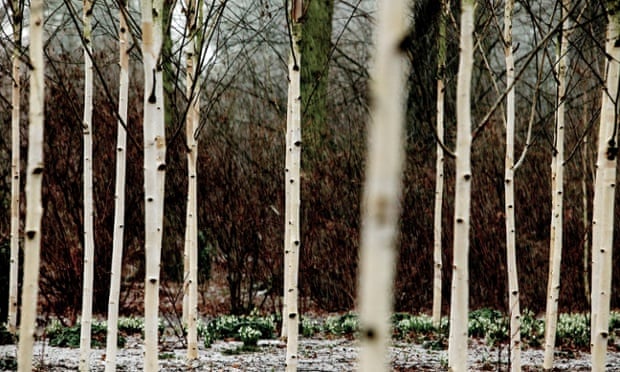 Betula utilis var jacquemontii 'Doorenbos' at the National Trust's Dunham Massey in Cheshire. Photograph: Christopher Thomond
Betula utilis var jacquemontii 'Doorenbos' will melt your heart when its white bark stands out in the barren winter. An ideal tree for the smaller garden, the chalk-white branches don't cast too much shade.
TLC Grow in moist but well-drained soil; before planting, dig deeply to aerate the soil and mix in plenty of organic matter (such as compost).
Height and spread 12m x 8m.
Plant among… A sea of bergenias, such as 'Ballawley' and 'Admiral', which have burgundy leaves in winter.
Buy from junker.co.uk