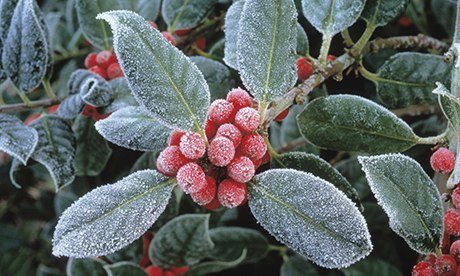 Winter colour: Ilex aquifolium 'JC Van Tol'. Photograph: Alamy
We have a solitary holly, which is like the anchor point for our little house on the hill. It sits dark and solid and is the envy of our neighbours at this time of year. I have no idea whether it is a named variety but imagine it was selected for its branches many years ago, when this land was market gardens.
It is festooned with berry and, named or unnamed, I am delighted to have it. Late in the autumn I climbed up into its branches to take some cuttings from the little wood that is without fruit. The plan is to have some young plants to emblazon other parts of the property and the cuttings will provide me with the security of females among the hedging hollies I am working into the quiet corners.
Knowing the sex of your hollies is essential if you are growing them for the fruit, and having an idea that there might be a male in the area to help in the process is also useful. A self-fertile variety, such as Ilex aquifolium "JC Van Tol", or a selected female such as "Alaska", will ease your concerns, but in truth it is rare that a named female goes unpollinated. Holly will grow almost anywhere, be it coastal exposure, buried in hedges or deep in woodland, and we are rarely far from this trusty native.
Though we are lucky in this country for the contrast of our four seasons, the steadfastness of winter greenery is welcome in winter, and I like the pagan ritual of bringing greenery into the house to remind us of constancy. I am planning to plant Ilex x koehneana "Chestnut Leaf" as a buffer to the wind around the vegetable garden. The evergreen Lonicera is a toughie, but having to cut it three times a year is tiresome. It is also one of those greedy evergreens, and I would rather wait for something slower growing than be constantly returning to keep it in order. The chestnut holly is a wonderful plant, with foliage not unlike its namesake and paler green for a holly. Its branches sweep groundwards if you leave it unpruned and fruit prolifically and later than most, extending the season.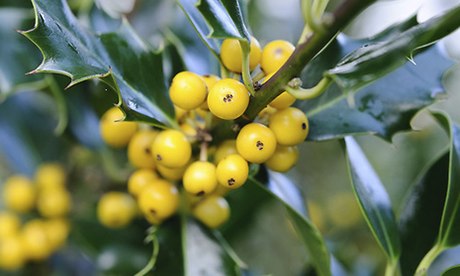 Golden globes: Ilex aquifolium 'Bacciflava'. Photograph: Jason Ingram for the Observer


The yellow-berried hollies are also particular for hanging on to their fruit, and Ilex aquifolium "Amber" or "Bacciflava" will bring a ray of light without relying on variegation.
Ivy grows anywhere shady and gets a grip here where its berries have been deposited by the birds. At this time of year you can see it darkening the hedges and woodland floors and greening the trunks of deciduous trees. Its flowers are only just going over, their heavy honey perfume giving November a particular atmosphere and the arborescent parts of ivy will retain their shrubby form if you propagate from these parts of the plant. Hedera helix "Arborescens" will make a low, relaxed shrub that is perfect for dark corners, but out in sunshine it will be more flower than leaf. And there is berry of course, dark and inky and a feast for birds in winter.
There is an arborescent form of the large-leaved H colchica that I have yet to try and sits firmly on my list of "to get's" for next year. H colchica is so much more beautiful than the chaos of its variegated offspring. "Paddy's Pride" is bright if you like a splash of colour, but I find its presence in a garden reminiscent of pizza toppings, or worse if you take the imagery in the wrong direction. Let the plain-leaved form rule. As complement to your hollies you could not think of a finer compliment.
Growing tip
To sex your holly, wait until it flowers. If it has berries it is female. Or buy one already labelled from the garden centre…
Email Dan at dan.pearson@observer.co.uk