'Hawthorns are super trees for their ease and good behaviour,' says Dan Pearson. Photograph: Alamy
It was a good move to start planting trees the first winter we arrived here. Just four years in and the young whips of 2010 are already trees we can walk among in the blossom wood. Their branches were hung heavy with berries this autumn and the birds came. The new orchard has also fruited for the first time.
It is good to see time mapped in growth and to find that within really quite a short period you can stand in the shade of something you have planted. I used to think that the wait for a tree to mature was a hardship, but the waiting is, in fact, half the pleasure. Seeing a stem become a trunk, the character evolving in the limbs and their influence upon a space is a magical process. You can buy maturity for carefully selected moments much as you might invest in a good sofa to improve a living room, but young trees have youthful vigour and will usually outstrip a larger and more expensive purchase.
The trees we have planted here are already rich with association. The crab apples on the hill up behind the house mark a New Year party. Some friends helped me plant them and it's nice to check their progress when they come back to visit. The sweet chestnut my parents gave me last Christmas has taken on a new significance since we lost my dad in March. I like the thought of the tree growing away where he left off.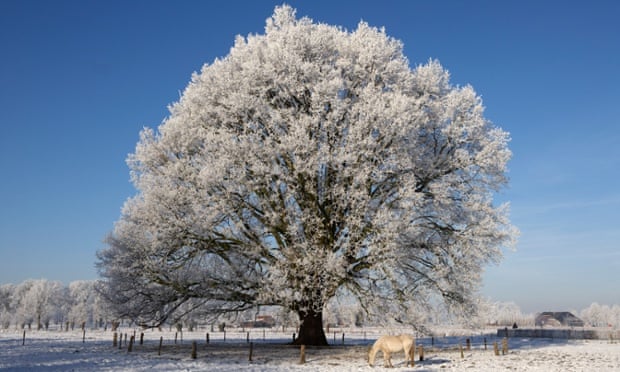 A frosted horse chestnut tree. Photograph: Laurence Delderfield/Getty
If you are gifting a tree, you do have to be careful that the recipient has the inclination and indeed the opportunity to take them into the future. You must always match your tree to its position and indeed its owner. Being picky with what comes into the garden myself, I would always say ask before you give to make sure it is wanted.
A friend gave me a Glastonbury thorn for my 50th this year. The cutting is apparently from the original on Glastonbury Tor, a solitary Crataegus monogyna 'Biflora' that was sadly vandalised recently. 'Biflora' flowers twice with the usual display in May and a pale, wintery show scattered across bare branches. Hawthorns are super trees for their ease and good behaviour, and useful for the fact that they have two seasons in both blossom and berry. I look forward to three seasons in one plant and will be interested to see in a mild winter if we have flowers at Christmas.
I have been looking carefully at trees this year. Scouting trips to European nurseries yielded a couple of new things. One of these was a dark-leaved Ailanthus altissima called 'Purple Dragon' that I'm going to use as a coppiced tree for its dramatic foliage. I had read about Tilia henryana, but had never met this modestly sized lime in the flesh. I saw it in September, when in flower, and the delicious honeyed perfume was quite unexpected that late in the season. It is always a slow journey to get to know a tree properly but I relish the years ahead of me, and becoming familiar.
Get growing
Bare-root trees should be planted or heeled-in as soon as you get them. Soak the roots before planting. Containerised trees permit an extended planting season.
Email Dan at dan.pearson@observer.co.uk