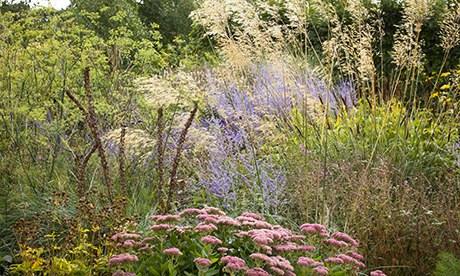 'I wanted to create my own prairie garden, composed entirely of herbaceous perennials and grasses.' Photograph: Jonathan Buckley
When I bought a house with a blank canvas of a garden, I wanted to pay homage to one of my horticultural heroes. Having admired the ethos and designs of plantsman and designer Piet Oudolf, I decided to emulate his style by creating my own prairie garden, composed entirely of herbaceous perennials and grasses.
I used to garden piecemeal – a plant-it-in-the-flowerbed-and-see-how-it-looks approach – but I changed my philosophy after doing a garden design course. My previous garden was a mixture of shrubs and herbaceous plants, but I wanted a space that looked as if nature had created it, inhabited by insects and birds, and that was also functional for my family.
The space is about an acre, surrounded by fields, with a few ancient apple trees upon which I anchored my design. Creating such a garden entails a leap of faith. To be a prairie gardener means embracing plants at every stage of their life, whether they are resplendent with colour or starkly bleached by the vagaries of winter. The ebb and flow of the seasons is beautifully captured in a prairie garden, which provides months of interest and a constantly changing palette. After late February's annual cut-back, the garden bursts into life from mid-May onwards. What follows is a slow burn of successional flowering, reaching a crescendo in late summer, when everything is in flower.
The theory sounded wonderful, but I spent hours deliberating. I worried about how my paradise would look in winter. Would it be awful to look out at brown foliage for three months of the year? Should I take the safe option and incorporate shrubs to provide reliable structure? Eventually my heart won out. This type of planting needs straight lines to provide a framework and curved ones to encourage slowness and contemplation. More mundanely perhaps, my sweeping curves of Breedon gravel make the most fantastic cycle track for my children.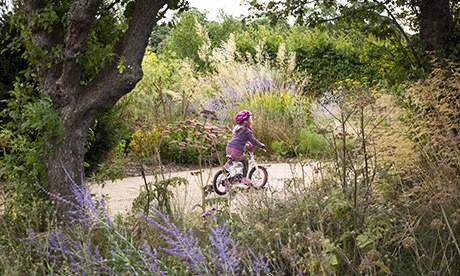 Gravel paths lined with (from back) Stipa gigantea, Perovskia 'Blue Spire', Sedum 'Autumn Joy', herb fennel and Achillea 'Cloth of Gold' (on right) provide a framework and a way through the garden


The plants were placed, observed and finally planted. The speed with which perennials begin to grow is one of the joys of prairie planting; within weeks the perovskia and eryngiums mushroomed in size, while bumblebees and butterflies danced attendance. Stipa tenuissima bobbed around in the wind like bleach-haired surfers. For maximum effect, plant types are repeated around the garden with each of the sections echoing the others. All parts contain achillea, nepeta and, most notably, Stipa gigantea. This has become my signature plant; it begins flowering in June with a proliferation of floating heads. It is dotted around the garden in ones or threes, and between June and September the setting sun infuses it with a golden light, transforming the seed heads into horticultural popping candy. It creates a focal point and rhythm, and provides a stately punctuation point above frothier planting beneath.
Successful prairie planting demands careful planning; ironically, creating something that looks natural requires thought and discipline. I've banned myself from making spontaneous plant purchases. Sometimes, though, the garden has its own ideas. Last summer, the Turkish sage (Phlomis russeliana) prolifically self-seeded and created a planting plan of its own; the Macedonian scabious (Knautia macedonica) did the same. Now that I have the backbone in place, I enjoy letting the garden make up its own mind.
I had to replace a mass of Deschampsia 'Goldtau' with new planting this year, after it was rotted by the clay soil and two wet winters. One year, numerous foxgloves magically appeared and are slowly expanding their territory. Cow parsley has also made its way in. It may be a weed, but I struggle to think of other umbellifers to rival its impact. So it stays: the garden has become its own little ecosystem, where humans happen to hang out, too.
How to plant a prairie, by Jane Perrone
Prairie garden designs employ a pared-down palette of grasses such as stipa, deschampsia, calamagrostis and deschampsia, along with herbaceous perennials that look their best in late summer: sedums, echinacea, achillea and the like.
Rather than dotting plants about, plant masses of them in sausage-shaped drifts: contrasts of height, texture and form are more important than colour. Group a tall, airy grass such as Stipa gigantea with the fleshy leaves and flattened flower heads of Sedum 'Matrona', for instance.
Choose a sunny, open spot – prairie plants don't like shade – and remove all weeds before planting. You don't need a huge garden to get the look: in smaller gardens, prairie expert Noel Kingsbury suggests planting 1m-wide prairie "strips".
Once established, all that's required is a decent haircut in late winter or early spring.
• For more pictures of Kirsty Grocott's prairie garden, go to guardian.co.uk/gardens