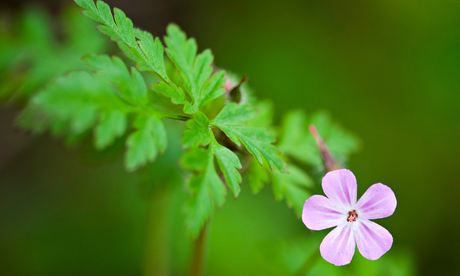 Pink and perky: the ubiquitous Herb Robert. Photograph: Tim Gainey/Alamy
I have just come in from an early-morning inspection of the garden. The fresh new foliage of summer is beaded with moisture and when I look back there is a meandering trail in the silvery dew where I have been tracking back and forth.
The garden is filling out daily, the soil in retreat and growth ballooning. Having to watch where you put your feet is a good thing in a garden and after a couple of years all new plantings should be protecting the ground in which they are growing. Keeping the ground covered is an art because a garden is always in flux.
A favourite mainstay in the balancing act are the perennial geraniums. Not to be confused with the brilliance of the South African pelargonium, which confusingly has geranium as the common name, the hardy cranesbills are a wide-ranging and adaptable tribe. They are happy in quite deep shade and dry shade at that, but also adaptable to sun. Cranesbill refers to the dispersal mechanism for the seed, which forms the bill and the projectile to the seeds that sit waiting until ripe. At the right moment, they are shot several metres to new territory where, if conditions are right, they will take hold.
I have the white form of Geranium robertianum growing in the studio garden. The woodsy smell of Herb Robert takes me back to my childhood and I shall always love it for the tiny mauve flowers suspended in air and its combination of delicacy and tenacity. The white form is delightful for its ephemeral quality.
G macrorrhizum has the same particular perfume to its foliage, which is furry to the touch and almost evergreen. This is an excellent plant and one that I can rely upon. Forming a slowly spreading weave of woody above-ground stems, it is happy to live under the skirts of shrubs or out in the sunshine. "Bevan's Variety" is the largest, at about a foot and a half, with May-flowering dark mauve flowers. "White Ness" is smaller and pure white whereas "Alba" is tinged with pink and has good autumn colour.
Right now the Mourning Widow is at its best. G phaeum "Samobor" is my favourite. The flower is small and darkest grey-purple. Cut the whole plant back after it has flowered and it will come back with renewed foliage.
Our native Bloody Cranesbill, G sanguineum, will be happy in a dry site as it grows in coastal sand dunes. "Tiny Monster" has the largest and brightest flowers, but for drama you might find a place for G psilostemon. This will rise to over a metre, pushing up magenta dark-eyed flowers among the shrub roses.
The lime-leaved "Ann Folkard" strikes a punchy contrast to the deep magenta flowers and I love using it in dappled places to scramble through at low level and illuminate a dappled corner. It is very long flowering, as are "Rozanne", whose blue and white flowers start in May and are still going with the Asters in autumn.
Get growing

Geranium pratense (our Meadow Cranesbill) is a native useful in grassland for extending the season well into August. If you have rough grass and want to keep it interesting into summer, this is an essential addition.