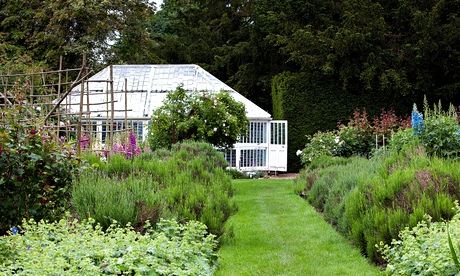 The glorious walled garden at Spencers. Photograph: Gavin Kingcome
Like most people who move house, Lynne and Colin Bogie waited to see what came up in the garden during the first year. Despite the wettest summer on record in 2012, they weren't disappointed. Not surprising, given their new plot is home to a garden full of inspirational planting schemes, elegant vistas, billowing roses and delights at every turn. "We're still waiting for a normal summer here," Lynne says as we walk into the walled garden, "after our first very wet summer and with last year being hot and dry."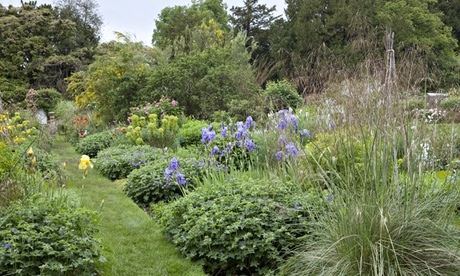 The one-acre walled garden is laid out in a grid system. Photograph: Gavin Kingcome


Situated in the Essex countryside on the outskirts of Great Yeldham near Halstead, the gardens at Spencers occupy 10 acres, but its one-acre walled garden is the jewel in the crown. This quintessential English country garden is divided into four quarters: the design follows a grid system first laid out in Georgian times. Original plans of the gardens are at the Essex Record Office in Chelmsford, and it was these plans that Tom Stuart-Smith, then a relatively unknown landscape architect, studied before redesigning the gardens in the early 1990s. Stuart-Smith kept the original layout, but added new features including a clover lawn and an ox-eye daisy wildflower maze.
"We supply the house with vegetables, fruit, cut flowers and potted plants," says head gardener John Pilgrim. The beds are a tapestry of colour, as rows of flowers mingle with lines of vegetables and soft fruit. Lynne has expanded the growing area and likes to try unusual vegetables. "Last year we grew red, white and orange beetroot," she says, "which looked very pretty on a plate." This year there are three varieties of pea and several types of squash.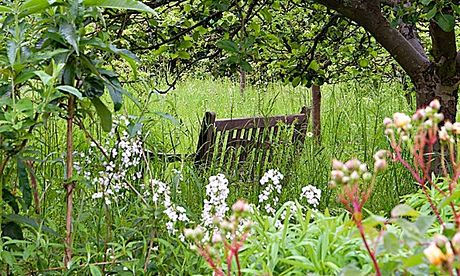 A secluded seat in the daisy maize. Photograph: Gavin Kingcome


Nearby, a scented herb garden with a bench under a honeysuckle beckons. Wafts of oregano, hyssop, lemon balm and nepeta emerge as you walk down a gravel path, gently brushing the plants on the way to this sunny spot, while height from the golden oat grass, Stipa gigantea, and giant scabious, Cephalaria gigantea, add interest and contrast to the lower planting. From here, you catch glimpses of massed plantings of the famous sky-blue delphinium grown at Spencers, 'Lord Butler'. A "true blue" delphinium, it was named after Rab Butler, Conservative MP and former Spencers occupant.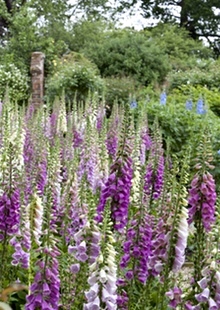 A mass of 'Excelsior' foxglove spires. Photograph: Gavin Kingcome


Pilgrim has a strict regime for looking after the delphiniums. "We start feeding in early March," he says, "then every six weeks until the end of August." Plants are staked when growth begins, around March, which is also the time basal cuttings are taken to increase stock, and any pests or disease are dealt with immediately. Beside the delphiniums are sweet peas with bold groups of Excelsior foxgloves followed by cosmos. Pilgrim brings on young foxgloves behind the scenes, so as soon as older ones are removed, a new display seemingly springs out of nowhere. His tip is to treat foxgloves as annuals. Sow seed in June, then put plants in their final growing position or into pots to overwinter outside. The cold spell encourages a good display next spring.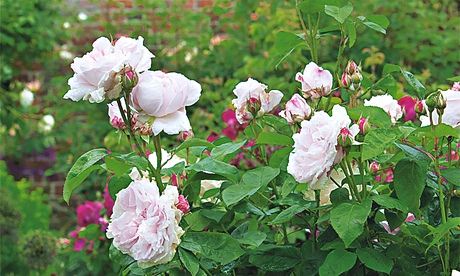 'Gentle Hermione' rose. Photograph: Gavin Kingcome


You are never more than a few steps from a rose in the walled garden. Old and modern roses are in abundance, with some varieties so old that Pilgrim doesn't know their name. A sundial, with a base made from a column of the old London bridge, is circled by yellow 'Graham Thomas' roses; a 'Kiftsgate' rose arch makes a stunning display in midsummer. Standard 'Iceberg' roses add height and, together with roses in the herbaceous borders, create a gentle, romantic charm.
Lynne was hesitant about buying a home where you couldn't see the main garden area from the house. "Actually, one of the benefits of having a garden away from the house is that you make time to come out and enjoy the plants," she says.
How to create a scented herb garden
• Choose plants with a variety of heights, from ground cover such as thyme and camomile, to middle layers with catmint, curry plant and sage, and higher layers of fennel and dill.
• Design a layout with narrow paths lined with plants, so you brush them you walk by; and add a seat from which to enjoy the fragrances.
• Plants to try: curry plant – the silver leaves exude a delicious, lightly spicy curry aroma; fennel (bronze- and green-leaved); golden marjoram; Lavandula angustifolia 'Hidcote'; mint (lemon, peppermint, apple and ginger-scented); rosemary (the prostrate variety takes up less space); sage (purple-leaved, tricolour, pineapple- and blackcurrant-scented); thyme (lemon, orange, caraway and pine-scented).
Spencers is open from 2-5pm every Thursday to the end of September and on September 14 for the National Gardens Scheme. Group bookings welcome by appointment.
• Spencers is open from 2-5pm every Thursday to the end of September and on September 14 for the National Gardens Scheme. Group bookings welcome by appointment.