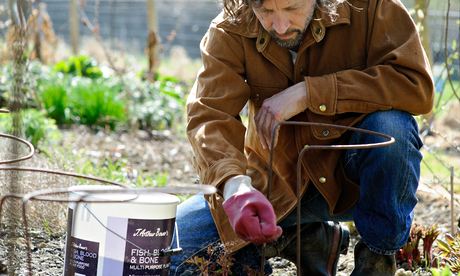 Ready to grow: Dan applies organic slow release fertiliser. Photograph: Jason Ingram for the Observer
Break it up

Although all bare-root and rootballed trees and shrubs should be in the ground by the time the buds begin to swell, the planting season for hardy perennials is with us for a good month yet. Split and separate herbaceous plants while basal growth is still low and there is time for the roots to get a hold before top growth starts. Save only the best material from the outside of established clumps and discard the weakest growth from the centre. This is the month for moving and splitting ornamental grasses, but save these until last and work on early-rising perennials first. Improve soil with organic matter before replanting to give new splits a good start, follow with a handful of slow-release fertiliser and top off with mulch.
A good feed

April is the month to feed shrubs and climbers. Shrubs such as dogwood or elder that you might have pruned hard will need energy to replenish growth, while roses, hydrangea and clematis will need the resources for the energy they put into flower. Top-dress with a handful of blood, fish and bone per square metre. Lawns that take wear and need to be kept in good condition can also be improved with a slow-release high-nitrogen organic fertiliser (greengardener.co.uk).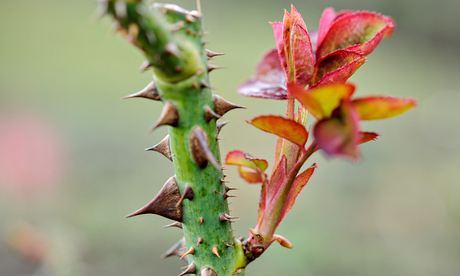 Roses, hydrangea and clematis need feeding as they get ready to flower. Photograph: Jason Ingram for the Observer


And sow on

This month will provide perfect conditions for sowing new lawns. As the ground warms you can also start to sow hardier vegetables such as beetroot and broad beans, and salad crops cloched for added protection. Under cover, and with a little additional heat, you can start tender annuals and perennials. Transplant seedlings into seed trays of single containers to grow them on as soon as they show the first true leaf. If you have stored them over winter, take dahlia cuttings from last year's tubers to keep a rotation of young plants.
Peas and queues

After erecting pea tripods, plant out young sweet pea plants if you have access to seedlings, giving them a good start with a trench full of compost or muck. Sow seed direct at the base of a complementary tripod for a later display that will take over once the earlies are exhausted.
Spuds you'll like

Plant potato and onion sets. I have taken to using the "Sarpo" varieties that are blight-resistant for main crops and lates, but I do like a row or two of earlies, which are usually harvested before blight strikes. Move the spuds and tomatoes from year to year if you have blight in your garden.
Final cut

Now that the worst of the cold is over, complete winter pruning. Work on roses first, as they have already broken bud, then move on to Mediterranean shrubs and herbs. Hardy Salvia, Caryopteris and Santolina can be cut back by two-thirds to encourage bushiness from the base.