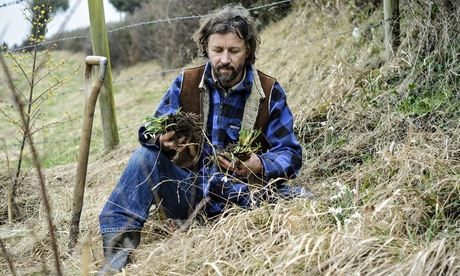 On the move: Dan repositioning snowdrops in-the-green. Photograph: Jason Ingram for the Observer
Early risers
February will see movement – bare earth giving way to the first spearing of spring bulbs. It will be a while yet until we see their full benefit, but the snowdrops will save us from feeling impatient. Most established gardens will reveal a clump or two at this time of year, for they are long-lived in soil that retains some moisture. Make a note of where they are and if you feel the need to reposition, move them in-the-green, as soon as their flowers are over. The clumps are easily divided and the foliage will continue to feed the bulbs to help them establish in their new position.
Make your beds
I like to leave as much in the beds as I can over the winter. The birds are feasting on the fennel and spent verbena outside my window, while on the ground the fallen foliage of last year is being pulled to earth by the worms where it will improve the soil's humus content. The spent stems from last year have helped protect expectant growth as it gathers momentum in the crowns of perennials. But, as soon as bulbs start into growth and have broken ground, it is time to selectively start the cutback to avoid treading on them later. Comb the beds for weeds that have been lurking, and mulch where soil remains bare with a weed-free compost, manure or chipped bark. All cuttings can be consigned to the compost heap.
Upon your soil
Continue to improve soil in the veggie garden as it is an intensive environment for growing. Heavier soils will still benefit from the action of frost to help break down clods, so dig in compost now if you haven't already. Lighter soils that are prone to leaching are best left until the last minute. Mulch these soils with compost and turn in a fortnight before the first sowing.
Prudent pruning
Grape vines should have been pruned by now as they will bleed if left any later. Summer-flowering clematis are next. Take back to a bud at knee height and be ready to start training the young shoots. Wait until spring-flowering clematis have flowered before pruning, to give them time to replenish or you will remove flowering wood. Prune wisteria this month, taking last year's growth back to two buds. Leave old wood and take slimmed wood out if your plants are becoming congested. Ideally you should be able to slip your hand between limbs. Take your time with winter pruning and take pleasure in this brief window of being able to organise your plants while dormant.
Planning ahead
Leave pruning roses until next month and start to think about sowing your first half-hardy annuals under glass if you have some artificial heat. It is early yet and we have time on our side so pace yourself wisely in the diminishing window of winter.