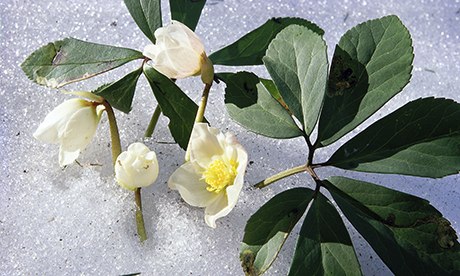 Frozen in time: the Christmas rose, Helleborus niger, in the snow. Photograph: Alamy
Bulb tips
The bulbs I planted in pots in the autumn are welcome now that the garden is lying low. Paperwhite narcissus are all but over, blasted in the heat of the house. Their perfume is overwhelming and in the cooler hallway they last longer. The plump new growth of hyacinth, hippeastrum and Iris reticulata never dims excitement. Don't rush bulbs if you are forcing them in winter. Grow slow and cool with plenty of light.
Orchid care
Cymbidium orchids will be showing flowering shoots. They will also suffer with too much heat – keep them cool to avoid the buds aborting. Keep an eye on watering houseplants and err on the side of less. If they are dry, soak from trays at the base. Do not feed in the winter months.
Storage systems
Overwintering dahlias and cannas should be kept in just-damp compost. Keep a monthly check if stored in a shed and drizzle water to prevent desiccation. Keep tender perennials such as pelargonium on the dry side and, for all of the above, keep frost free if temperatures plummet.
Winter bonus
In mild spells the first of the witch hazels are blooming and there will be perfume from sarcococca and Viburnum bodnantense. Remember to plant close to well-trodden paths or frequently used doors to take advantage of this winter bonus.
Ground control
Soil retains enough warmth to sustain root growth in all but the coldest periods so keep planting trees and shrubs between freeze or deluge. Bare-root plants should be heeled in until they are ready to be planted to keep the roots moist. If bare-root roses look dry at the roots, soak in a bucket of water for 24 hours before planting. Never plant in a freeze as it will inhibit root growth.
Make the most of a freeze to barrow manure or heavy loads around the garden over soil but never walk on frozen grass as you will leave blacked trails where it bruises.
Water ways
Water newly planted evergreens after a freeze as the water will be locked up in the soil. Don't overdo it as there is usually rain on the way.
Help for hellebores
Cover the true Christmas rose, Helleborus niger, with a cloche to protect the flowers until they are fully formed. Alternatively, a sharp sand mulch will guard against slugs.
Tool's paradise
My tool shed always needs a cleanout at the start of a new year. Rationalise pots, clean and sharpen tools, throw away odd bits of string, separate this year's canes from last and cut the eldest into pegs for marking treasures and ends of rows.
Planning ahead
List jobs you want to work through over the winter season. Plan in those that can happen at any time and those with specific dates – such as the vines that should be pruned by the end of the month to prevent them from bleeding. Make sure you have ordered your seed potatoes, dahlias and the coming summer's seed so you can concentrate on the garden when things start moving.