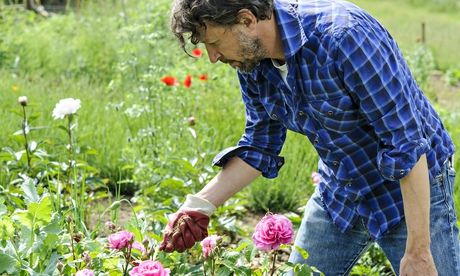 Coming up roses: feeding plants with blood, fish and bone. Photograph: Jason Ingram for the Observer
Forward planning
The roses have already peaked, with enormous flurries of energy put into flowering. Deadheading recurrent flowering roses – cutting spent blooms back to the first set of healthy leaves – will promote a second crop and, if repeated, a third in autumn. Feeding with a handful of organic slow-release blood, fish and bone will help to keep energy up in the plant and the foliage in good condition and resistant to disease.
Deadheading the first flower spikes of lupin and delphinium will see them producing secondary flower spikes. After these are over the whole plant can be cut to the base, and with a feed and water, they will refresh themselves with new foliage.
Strategic watering
If dry weather lies ahead, water strategically and only those plants that need it. Water thoroughly and deeply to encourage roots not to come to the surface, and only when plants tell you they need it, or they will become dependent. Save rainwater and use it on pot-grown blueberries and house plants. Be waterwise and place trays under the pots to conserve moisture.
Handling house plants
Move house plants outside to give them a summer break. Cymbidium orchids, one of the easiest to grow, need a spell outdoors to help them initiate flowering buds. A cool corner with plenty of light is their preferred choice. They will live longer and be happier for having rainwater rather than tap. Never leave orchids standing in a tray of water, but use a tray under pot-grown plants to conserve water.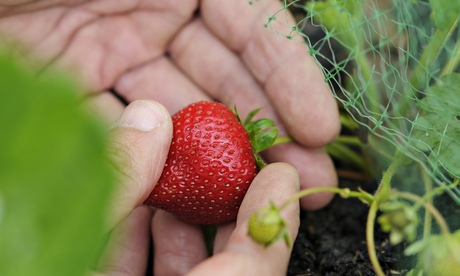 Strawberry 'Sonata' ready for harvesting. Photograph: Jason Ingram for the Observer


Cast your net
Only leave nets over the strawberries while they are fruiting, as nets can entangle birds. Pick on a daily basis and net currants, blueberries and autumn-fruiting raspberries. A fine mesh or net over cabbages will keep the cabbage whites from laying eggs.
Order of the day
Reinstate order in the garden. Start with box, removing the cuttings to diminish the risk of blight. If you have blight, clean blades after cutting each bush. Move on to hornbeam, beech and mixed hedges as you see growth slowing. Cutting too early will promote secondary growth, which I like for its softness, but for clean lines trim again at the end of August. Save yew till then, as it grows slowly.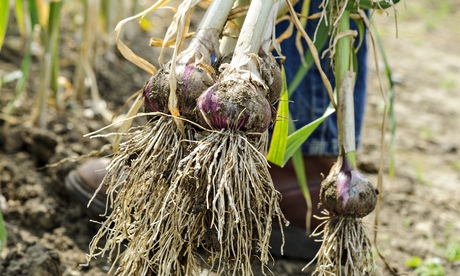 Wet garlic is ready when the tops start to brown, Photograph: Jason Ingram for the Observer


The vegetable plot thickens
Dig the potatoes. If it is wet, harvest the late varieties to avoid slug infestation and the risk of blight. Remove foliage if blight hits and burn. Keep pinching out potatoes' side shoots and stop outdoor plants at five trusses. Feed fortnightly with a potash feed to help in fruit ripening.
Dig garlic and hang it to dry. Eat "wet" or green garlic varieties as soon as you can. Bend the onion tops over once the bulbs have swelled to prevent them from going to seed.
Continue to successional-sow salad in short rows every fortnight and choose cool weather for lettuces: they need cooler nights to germinate.
Email Dan at dan.pearson@observer.co.uk