All systems go: Geranium 'Johnson's Blue' is a good candidate for chopping back.
Chopping back
Early-flowering perennials, such as Geranium "Johnson's Blue", lupins and Anthriscus "Raven's Wing", will have peaked this month. Cutting them back to the base after flowering will promote fresh foliage and, often, a second crop of flowers. Oriental poppies dip into a few weeks of semi-dormancy after flowering, so after you have removed their tired top growth, plug the gap with pot-grown annuals.
Outside chance
Summer bedding extends the season and provides colour for later in the year. Pot-grown annuals and half-hardy perennials are such a useful way to inject new energy and ring the changes. Be imaginative with colour.
Sowing the seeds
Now that all risk of frost should be behind us, plant out cucumbers, runner beans and sweetcorn that have been grown inside. The soil is warm enough now to sow sweetcorn, French and runner beans directly into the ground. Make second sowings of peas and continue to stagger crops of beetroot, radish and salad. Use the shadow cast by runner-bean wigwams and pea supports for leafy salads as they appreciate a little shade. Sow nursery rows of winter brassicas. Grow them on until they are at the four-leaf stage before transplanting to their final positions. Protect brassicas from cabbage white butterfly, carrots from carrot root fly and rocket from flea beetle with a protective covering of Envirofleece.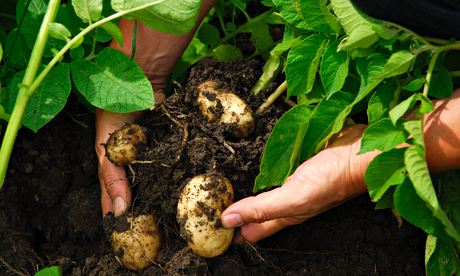 Salad days: the first early potatoes are ready to lift. Photograph: Ian Francis /Alamy


Water works
During dry spells water Florence fennel and spinach. They will bolt and run to seed at the slightest sign of drought. Convince them of good times with compost in the soil and water, and they will repay you handsomely in harvest. Use precious rainwater for blueberries. A mulch of pine needles will help keep acidity up.
All tied up
Tie in sweet peas, clematis and new canes on soft fruit to keep everything moving in the right direction , and stake if you haven't done so already to prevent the garden flopping later on.
Pruning rules
Prune out flowering wood as soon as it is over on early-flowering shrubs, such as philadelphus and deutzia. Don't waste the prunings as it is a good time to take soft-wood cuttings.
Red alert
Net strawberries ahead of them ripening and pin down runners if you require young plants for replanting later. Strawberry beds last for three to four years before needing replanting.
Perfect potatoes
As soon as the earlies start to flower, the tubers are ready to lift. Enjoy your first bowl of potatoes with nothing more than salt, butter and a handful of chives chopped finely, and bask in the simple pleasures of growing your own.