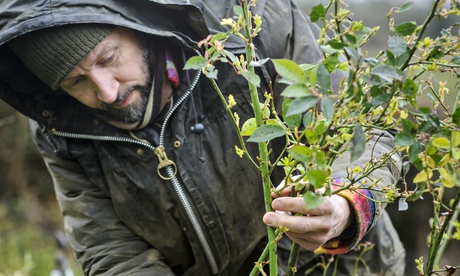 Down to work: Dan Pearson applies himself to pruning roses. Photograph: Jason Ingram for the Observer
Rhubard, rhubarb
I have put the rhubarb forcers over the "Timperley Early" to make the most of the mild weather. This is one of the first to crop, but do not be tempted to overpick any one plant or you can deplete its energy. A forcer need not be terracotta. An upturned bucket or dustbin with holes in the base can be just as effective.
Get growing
A plastic tarp or black plastic sheets stretched over the ground will trap heat and help warm the soil for germination. Once it has reached 6C it is safe to sow hardy veg under cloches. Early salad, beetroot, radish and broad beans can go in if they have protection.
Sow half-hardy annuals and vegetables under cover if you have a glasshouse, or on sunny windowsills if you don't, to extend their growing season. If the weather remains dry you can plant out onion sets this month, choosing the sunniest, best-drained site and soil that was manured last season.
Start chitting your potato sets in a cool, airy place to encourage small shoots or "eyes". Old egg crates are perfect for this. If the eyes race away, it is because the potatoes are too warm. A perfect eye should stay tight to the tuber and will be less vulnerable to damage when planted out at the end of the month.
Dig with care
If the weather has been too wet to dig, do it from boards to help spread your weight. Try to get all the digging done by the end of the month, incorporating muck or compost into beds that are going to support leafy vegetables and legumes.
Planting season
Prioritise planting any bare-root plants this month. If the mild weather continues, it will be worth making the effort to have them in their final positions well before leaf break. It is a good time to move and split perennials so that they, too, have the opportunity to settle in.
Spring clear-up
Last year's spent stems can be cleared away to reveal new growth on the perennials. Pull those that come away easily but never force them. Weed out anything that has been lurking under cover. Annual weeds are easily dealt with, but perennials should be carefully teased out with a hand fork or trowel. Mulch with weed-free compost, manure or composted bark to prevent soil from drying out come summer.
Out with the old
It is time to prune the roses. Remove old wood, anything that has suffered die-back during the winter. Shorten last year's growth by about a third with recurrent-blooming roses. Treat shrub roses lightly, removing a number of old stems to the base, but only if your bushes look tired or congested. They all love food, so apply a handful of slow-release fertiliser evenly over the root plate and mulch with muck if you have it.
Email Dan at dan.pearson@observer.co.uk