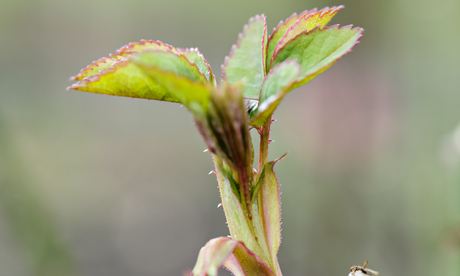 Feeding time: first new growth on rose. Photograph: Jason Ingram for the Observer
Raising the stakes
Before it is impossible to wade into the beds I like to get all my staking done, so that those plants that need it can grow into their supports rather than be hauled back to the vertical once they have started to lean. I try not to use plants that need staking, and employ the "Chelsea chop" to late-flowering perennials, such as helenium, aster and rudbeckia, that do. Reduce growth by half in Chelsea week (third week in May) and it will re-branch to produce a sturdier plant. Hazel pea sticks are the most aesthetic supports. I use self-fashioned, mild-steel hoops that slip into the beds with ease and without the need for unnecessary cursing.
Peas and beans

Erect tripods for runner and climbing French beans, but do not sow them until the end of the month as they are tender and need the security of guaranteed warmth. Sow inside in a pot if you have a glasshouse or a sunny windowsill and plant out when the nights are free of frost. Sow peas, which are hardy, after you have erected supports for them.
Climbing frames

Tie in sweet peas and clematis weekly as they start to make their ascent. Leave them sprawling and all the energy will go out of them in a tangle.
Coming up roses
Feed the roses so that they are well prepared to deal with the demands of flowering and the onslaught of pests and diseases. I use slow-release blood fish and bone at the rate of a handful spread evenly over the root zone of each bush. I also drench the foliage with a tonic of Sulphur Rose (greengardener.co.uk) to ward off blackspot and mildew.
Tattie time

As soon as they break the ground, earth up potatoes to encourage tuber production. If it is dry, keep them damp during this time of rapid growth to avoid the development of scab.
Outside chance

London will be free of frost by the start of May, but it is the third week of the month before the rest of the country can be sure temperatures don't drop low enough to damage tender perennials and annuals. Delicate plants should be hardened off before being planted out. Keep them close to the house for a week or so for added protection, chock the frame at night if you are using one or cover plants with a protective layer of fleece.
Heed the weeds

Keep the hoe handy. "One year's seed, seven years' weed" is a truism worth remembering. That said, where you do allow self-seeders, weed overzealous poppies and eschscholtzia to protect plants that are slower off the blocks.
Beetle juice

Pick off scarlet lily beetles and green rosemary beetles, to keep adults in check and avoid the use of pesticides.
Email Dan at dan.pearson@observer.co.uk