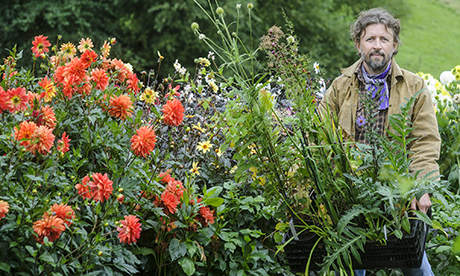 Dan Pearson gets ready for planting. Photograph: Jason Ingram for the Observer
Going underground
The heat stored in the ground from summer, coupled with guaranteed moisture, can promote some of the garden's most satisfactory growth. This happens below ground in the form of root activity, so dig in now so that your plants are established before the winter. Perennials, pot-grown trees and shrubs (it is still too early for bare-root), and the last of the bulbs will make better plants for going in now.
Perennial wisdom
The conditions make it perfect for splitting and dividing perennials in need of regeneration. Diminished flowering, impeded vigour and a bald spot in the centre of the crown are signs that they need it. Hellebores and peonies also prefer to be moved now rather than in spring. With the exception of evergreen perennials, cut all growth to the base and lift carefully with a fork. Take two forks and insert them back-to-back in the centre of the clump and prize the growth apart in a reverse pincer movement. Repeat until it is possible to use your hands. Take the strongest growth from the edges of the clump and discard the rest. Prepare the ground thoroughly with compost and a handful of bonemeal, replant and water in.
Home turf
Sow seed quickly in the first half of the month if you are seeding lawns or patching damaged areas. It is also the optimum time to lay turf. Prepare the ground well beforehand and never leave turf sitting in its roll for more than a couple of days and work from boards to spread your weight.
Falling leaves
Enjoy the leaves but keep an eye on the lawn as grass can be damaged if leaves are allowed to lie wet for too long. Think of raking as a Zen exercise – they smell wonderful and should be saved in a leaf heap or in punctured bin-liners to allow them to breathe as they are rotting down into leaf mould. This is the ultimate in soil conditioners for lilies and woodlanders.
Winter bulbs
If you are struggling to get all the bulbs in, leave the tulips until next month. Try to remember to pot up a few bulbs of Narcissus "Paper White" as they should be in flower by Christmas if planted now. Keep them in a frame or a cool greenhouse to bring them on. Small pots of Iris reticulata and crocus are also worthwhile as you can enjoy their early flower up close on windowsills.
Growing garlic
Plant out garlic sets from certified stock. Choose your sunniest position and free-draining ground. They will be up in no time and making you feel that the vegetable garden is still in production when most of it lies fallow.
Cold storage
Dig the last of your potatoes and store them in a cool dark shed. Pick pumpkins and leave them to ripen in a warm position. Pick apples and pears. The last of the autumn-fruiting raspberries can go into the freezer.
Need for seed
Make a last round and collect any seed that you would like to save. Either the birds will have it or an autumn gale.
Tender care
Keep tender perennials outside for as long as possible. They will appreciate the light. Bring them close to the house and prepare them for being inside by diminishing their water supply so that they are ready for winter tickover. Ideal conditions for overwintering are cool, light and frost free.
Email Dan at dan.pearson@observer.co.uk