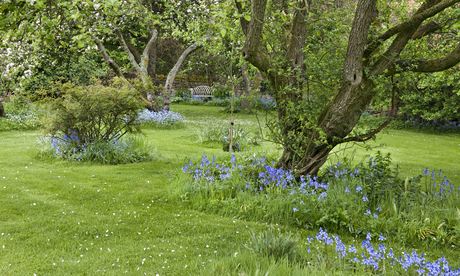 Shandy Hall is a mine of inspiration for those who prefer their gardens a little more free-flowing. Photograph: Garden Exposures/Andrea Jones
A garden set between a ruined medieval abbey and a huge white horse carved into a hillside, which opens to the public at night so people can capture moths: it sounds just like a setting written by Anglo-Irish writer Laurence Sterne. In fact, Shandy Hall, in the village of Coxwold on the edge of the North Yorkshire moors, was the "sweet retreat" where in the 1760s Sterne wrote his classic The Life And Opinions Of Tristram Shandy, Gentleman. (Even if you've not read the book, you may have seen Michael Winterbottom's 2005 film A Cock And Bull Story, which was in part filmed on location.)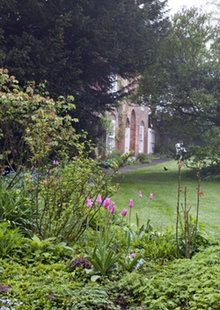 The two-acre plot is managed entirely by a team of volunteers. Photograph: Garden Exposures/Andrea Jones


Three-hundred-and-fifty years on, the spirit of the place would still be appreciated by Sterne, a keen gardener who dug roots and weeds and tended nectarines at Shandy Hall. It's maybe not for those who go for straight lines, manicured borders and colour-themed plants, but if you like your garden "shaggy" (a style, incidentally, favoured by that other iconoclastic artist and gardener Derek Jarman), Shandy Hall is a great place to find inspiration.
The two-acre plot is managed entirely by volunteers, under the instruction of its chief gardener (or referee, as she likes to think of herself), Chris Pearson, who lives on site with her partner Patrick Wildgust, curator of the Sterne museum at Shandy Hall. When the couple arrived here 10 years ago, with no money for the upkeep of the garden, Pearson soon realised that it would turn into a thicket within a year if she didn't look after it. To begin with, she set aside two days a week to maintaining the garden while working full-time as a librarian. "Bless my mother for teaching me to read," Pearson says today, "because I needed to find out how to do an awful lot of things." Long hours spent poring over gardening books, close attention to detail and adoption of the philosophy of Shandyism (shandy meaning odd or half-crazy), as well as working with the garden rather than trying to beat it into submission, has resulted in an abundant, at times riotous space that echoes many of the themes of Sterne's most celebrated book.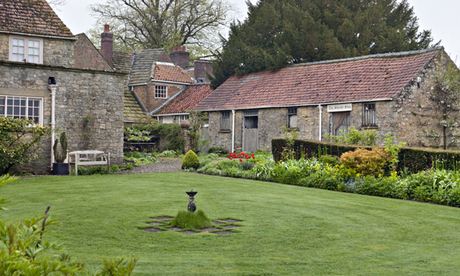 The lawns at Shandy Hall are mowed in concentric circles. Photograph: Garden Exposures/Andrea Jones


The present garden was created in the early 1970s by Julia Monkman, wife of Kenneth Monkman, founder of the Laurence Sterne Trust. It incorporates parts the writer might have known firsthand, for example the box-edged parterre at the front of the house. These days, the lawns are mowed by Wildgust in concentric circles, which outrages the odd visitor who remains wedded to the horizontal stripe; there's a fine corkscrew hazel in the quarry garden, which is itself threaded with meandering paths; the access handrails aren't linear, and are instead modelled on the aerial flourish from Colonel Trim's stick, drawn by Sterne in Tristram Shandy and meant to express man's freedom.
Sterne's famous marbled pages – the "motley emblem of my work" – are echoed in the mottled leaves of plants such as nasturtium 'Alaska', lamium, cuckoo pint (Arum maculatum) and epimedium, while dark plants such as wine-coloured hellebores, the dark foliage of Heuchera 'Obsidian' and Geranium phaeum 'The Widow' bring to mind Sterne's infamous black page, marking the death of Parson Yorick.
And the moths? They are their own digression (Sterne would most likely have enjoyed the tortuous connection between his writing on mortality and the memento mori of the moth world, not least the death's-head hawk moth, which has an unsettling pattern of a skull on its thorax). One evening, Wildgust witnessed the strange vertical mating dance of ghost moths and began wondering how many species there were in the garden. Through careful capture and release, more than 150 species of moth have been recorded at Shandy Hall (a full list is on the blog shandyhallmoths.blogspot.co.uk), some of whose names are easy to imagine fluttering from Sterne's pen: pale-shouldered brocade, muslin footman, shoulder-striped wainscot and wormwood pug to name just a few.
If butterflies and bees are the A-list celebrities of pollinators, moths and their nocturnal propensity to blunder about in the light like drunks mean they're often disregarded as such. Pearson has built up a knowledge of plants vital to moths, from sweet rocket (Hesperis matronalis), honesty (Lunaria annua) and campion (Silene) to scabious, enchanter's nightshade (Circaea lutetiana) and cuckoo flower (Cardamine pratensis), all of which help to ensure their survival at Shandy Hall. The garden even opens occasionally in the evening, under the National Gardens Scheme, so that Shandy Hall's moths, and the four species of bat recorded there (pipistrelle, daubenton, long-eared and whiskered) can be appreciated along with the dusky garden.Shandy Hall Gardens are open 1 May-30 September, every day except Saturday. The next NGS moth evenings are on June 20 and July 4.