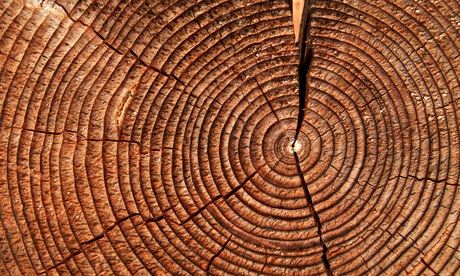 Ring cycle: oaks are said to take 300 years to grow. Photograph: Sandra Mosinger/Getty Images
Last summer, on a still, bright day in August, the quiet was broken by a thundering crack, followed by a thud which shook the ground. It was one of those rare moments when time moves in slow motion, and as we glanced up from the vegetable garden to the source of the sound we saw an enormous branch crash out of the oak tree on the hill. This particular tree is a stand-alone veteran from another era, with character in its limbs and wide-reaching branches. We walked up there later in the evening when the shadows were long to find a limb the size of a tree lying on the ground.
Oaks are said to take 300 years to grow, another 300 to stand in their maturity and then the same again to die, so I felt curiously privileged to witness such change in the life of this tree. It would have been standing on the hill way before any of the houses currently dotting the valley and it will probably see them out, too. The event and the change set me thinking about the legacy of being the custodian of our land and of the glance in time that will mark our own moment.
I like the idea of planting for longevity and find myself increasingly drawn to the idea of planting for the future. A tree will map decades if not centuries in its branches, and though we have no control over what might happen to that tree in years to come, the feeling associated with steering it in the right direction is nothing but wholesome. With this in mind I have planted three oaks this winter, two either side of a gate into the field below the veteran. The third has been inserted in a gap in the hedge high on our land in the hope that one day we will be able to sit under its branches and take in the view.
Though you might think of oaks as being slow, this is far from the case, and in 30 years' time these trees will be easily as many feet tall. If you are planting for longevity though – and this, I might add, should be the case in choosing any tree – it is important to think about their ultimate size. Not all trees that live to a great age are space hungry with it. If I wanted the character of an oak in a small garden, it would be a black mulberry every time. Where an oak might win on points with the amount of wildlife it would attract, a Morus nigra would win hands down in terms of its fruit. Acorns are good for pigs. Mulberries are very definitely the choice of humans.
Another long-lasting tree and another of my favourite natives is the field maple, Acer campestre. This is a modestly sized tree happy to grow in almost any condition, be it coastal, wasteland or in a prime position in your garden. Well behaved, slowly attaining a height and ultimate spread of 25-30ft, it can also be coppiced should you require it and, come autumn, the leaves colour a delightful russet orange. I have collected keys (seeds) from another veteran in the valley and plan to give them to clients so that they live on for future generations.
Get growing

As a rule, bare-root trees are best planted in the first half of winter. Try to get any in by the end of March and move on to pot-grown material as soon as you see plants coming into leaf.