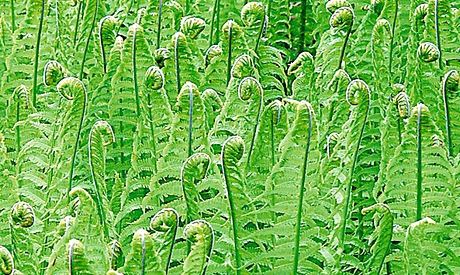 Shuttlecock fern: low-maintenance ground cover that explodes upwards. Photograph: Alamy
Harvest this Don't moan about your rampaging mint; exploit it instead. You'll thank me when you're drinking homegrown herbal tea in December. Cut bunches of mint (and sage, rosemary and thyme, for that matter), wash, drain, then hang up in bunches in a warm, airy place. Once bone dry, strip the leaves from the stems and store in an airtight tin. And if you're mint's not rampaging? Repot congested containers, then mulch, feed and water in dry spells.
See this If you struggle to find good plants or expert advice at the local DIY shed or garden centre, and begrudge paying steep p&p costs for mail-order, a visit to a plant fair is the answer. From vintage tools to choice perennials, some of the country's best makers and growers will this weekend be at the Borde Hill Plant Finders Fair near Haywards Heath in West Sussex; tickets cost £10, and includes free access to the gardens at Borde Hill.
Plant this The fronds of the shuttlecock fern, Matteuccia struthiopteris, unfurl in spring like a bright green feather duster (and also call to mind its other common name, the ostrich fern). If you're looking for low-maintenance ground cover that explodes upwards rather than creeps, it's the perfect addition to a moist, shady border. Expect a height and spread of 1.2m x 1m. Plant with hostas, rodgersias and brunneras, perhaps under a deciduous tree. Buy one potted plant for £11.99, or two for £15.98 (with free mainland UK p&p). To order, call 0330 333 6856, quoting ref GU206, or go to our Readers' offers page. Supplied as plug plants; delivery July 2014.