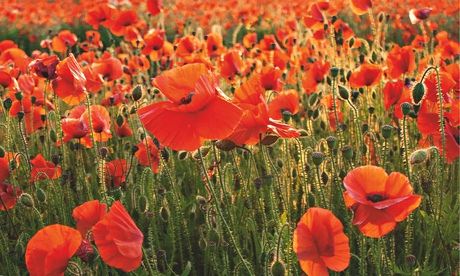 The Royal British Legion has launched the Centenary Poppy Seed Campaign to mark 100 years since the outbreak of the first world war. Photograph: Getty Images
Every soil contains a bank of sleeping seeds. They will lie dormant below the surface for years, waiting for the moment when moisture, temperature and sunlight combine to create the perfect conditions for germination – which is usually when those seeds are serendipitously brought to the surface. This is why – in the days before they were meticulously sprayed out – corn poppies (Papaver rhoeas) would pop up in corn fields: the annual turning of the soil churned the seeds to the surface and, being a pioneer species, they were able to get up and away before the corn crowded them out.
This is also why they became a feature of the deathly landscape at Flanders. Though thousands of terrified, weary boys were the first casualty of trench warfare, nature was the second. This vicious style of battle, with its endless explosions churning up the earth, left the area almost devoid of life. But when every blade of grass and tree had been scorched, blown apart and trampled, when the soil had been dug to depths that would never normally be troubled, poppy seeds were liberated from dormancy and found themselves with sunlight, water, bare soil – and no competition. After a long, cold winter, the weather around Ypres in Belgium was unusually warm in the spring of 1915, and soon poppies sprung into life.
Their blooms, tissue-delicate and blood-red, must have been a poignant sight to men surrounded only by mud and death. In Flanders Fields, the poem that inspired the use of poppy as remembrance symbol, was written in May 1915 by Lieutenant Colonel John McCrae, who was stationed at Ypres. Its final line, written from the point of view of a dead soldier, hints at a bitterness that such life could spring forth among all this: "We shall not sleep, though poppies grow in Flanders fields."
It is easy to see why the poppy has become our symbol of remembrance. It is euphemistic, yet at the same time it places you physically in that awful place. But the poppy is also hopeful: of life following death, of the triumph of beautiful nature over the ugliest of man-made scars.
It is 100 years this summer since the outbreak of the first world war, and to mark it the Royal British Legion has launched the Centenary Poppy Seed Campaign. It wants to see swathes of poppies growing throughout the country this year, and now is the time to buy and sow their seeds.
While the poppies of Flanders burst into bloom without a scrap of tending, there were millions of seeds in that soil, waiting to succeed or fail, and you will have only a small packet, so give yourself a good chance of success. Work the soil to a fine crumb before sowing (any time from now onwards), to help the seeds make good contact with soil and water, enabling them to germinate and take hold. Lightly rake over the soil, so the seeds are just covered, and water with a fine rose (you don't want to wash the seeds into clumps with a hosepipe or watering can spout); and water frequently during dry weather, at least while the seedlings establish. Once they are small plants, they should need very little attention, though you may want to thin them to 20cm apart.
A lovely way to use corn poppies is as part of an annual meadow mix, which will include other species such as cornflower, scentless mayweed and corncockle. Unlike perennial meadows, which need poor soil, these annual mixes thrive in rich soils, so are ideal for a border or patch of allotment. Sow them just as you would straight poppies.
I struggle each year with the wearing of a poppy: sometimes I do, sometimes I don't; and sometimes I wear a white poppy, for peace. Poppy-wearing feels obligatory these days, and non-poppy-wearing frowned upon – it has become a way of publicly proclaiming a mix of patriotism and empathy, and I would hate for our gardens to go the way of our newsreaders' lapels. But even so, I want to commemorate the war this year, and a ribbon of poppies in a corner of my allotment may be the way for me to overcome my qualms.
My allotment's history – like so many others – is bound up in war: our allotment society was formed as a reaction to first world war U-boat blockades and food shortages. Many of the men and women doing their bit by working the new plots would have had nephews, brothers and sons in Belgium and France, so it feels like the right place to make a mark. Come the anniversary, my poppies will be in full bloom among the cabbages and potatoes that have been grown on my plot for nearly 100 years. What a beautiful, simple way to remember.
• You can buy the British Legion's poppy seeds from branches of B&Q.