Mellow yellow: mimosa tree blossom – a cheerful sight in winter. Photograph: Alamy
There is a young Acacia dealbata not far from us in Waterloo that I go out of my way to visit. In the summer it sits back and you pass it without thinking, but in midwinter it dons its floral plumage to ruffle the tree into an out-of-season spectacle.
Mimosa reminds me of winter trips to a garden I was making in southern Italy and where, in soft sunshine, the air is warm enough to carry the delicious perfume. The mimosa experience, even in the midst of our grey capital, would not be the same if it performed at any other time. Making space in the garden for something that blooms out of season will rekindle your faith in the bleakest weeks. A witch hazel, for instance, popping gold from cinnamon buds, will carry you through to the snowdrops and winter aconites still to arrive.
I have come to winter box late, having passed it by when I was younger. How wrong I was not to winkle it into shady places and under the skirts of deciduous trees and shrubs. Sarcococca love these conditions and are in their element in winter, not just for their shiny evergreen but for the deliciously perfumed flowers. Sarcococca ruscifolia var chinensis 'Dragon Gate' is a fine-leaved form that I have planted by our garden door. When the wind isn't blowing, you walk into a delicious cloud when you enter the garden. S hookeriana var humilis is a slowly creeping plant that will mound not much more than a foot, while S hookeriana var digyna stands taller at a metre, with arching stems and willowy foliage.
Daphne bholua take the months of January and February hostage. Forming a rangy evergreen, taller than they are wide, they favour a position that reminds them of their homelands in the foothills of the Himalayas. We have a palest pink form called 'Darjeeling' tucked in a foot-wide bed on the north side of a wall at the studio. This is one of the first to flower, often as early as Christmas. The darker pink 'Jacqueline Postill' kicks off in late January and lasts up to a month.
The winter honeysuckle, Lonicera fragrantissima, is as resilient and unfussy as a shrub can be. Happy in shade or out in the sun, on chalk, clay or thin acidic sand, it is a doer. I have taken to planting it as a loose hedge so that I can pick bunches in the dark months along with wintersweet to perfume a room.
The lonicera is also a shrub you might bypass in summer, but it comes into its own once its foliage is down, with a spangle of creamy-yellow anthered flowers. They appear for weeks in a good winter, with a perfume every bit as intoxicating as their summery cousins. My plant was in flower last month and will continue on and off as a bridge to the new life that lies just around the corner.
Get growing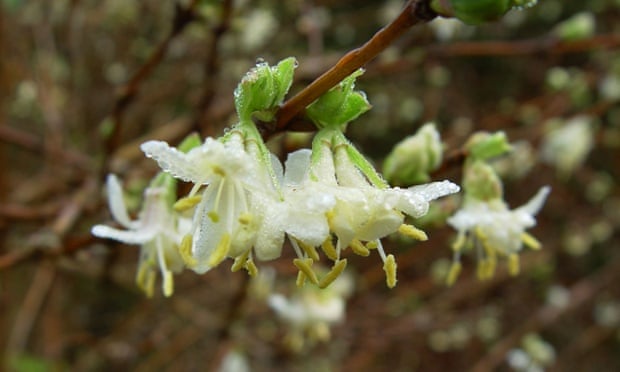 Winter-flowering honeysuckle (Lonicera fragrantissima) in bloom. Photograph: Alamy
Perfumed shrubs are best planted in a position where you will be intercepted by held perfume as you pass. Paths, doorways and courtyards are ideal.