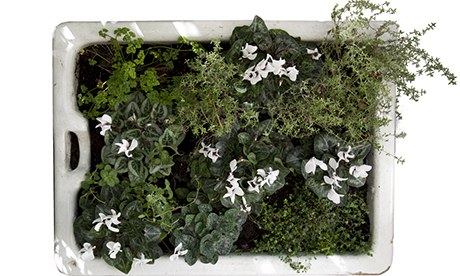 A butcher's sink is home to thyme, oregano and parsley, with pure white cyclamen nestled in among them. Photograph: Franck Allais
Only the most cynical gardener could fail to love a bedding plant. These bright little bursts of colour, packed into baskets and window boxes, are the only true bit of instant gardening there is. All else is best done slow and steady, while occasionally leaning on a time-worn spade and gazing wisely at the horizon, but with bedding plants you can buy, throw together and smile proudly.
Summer is their usual domain. Fuchsias, petunias, lobelias and geraniums tumble from hanging baskets and pots, gaudily brightening doorsteps and pub fronts. In winter, the cast of plants changes. Frost kills the soft summer favourites, so it's on to tough but pretty little violas and larger, flouncier pansies, as well as primulas, polyanthus and cyclamen. For foliage, it's ivies or baby plants of silvery cineraria or variegated euonymus. Use these to create a winter version of a summer pot: something tall in the middle, fillers around the outside and something trailing to soften the edges. That is a jaunty approach, if jaunty is what you are after, but I thought I would play to their particular strengths and create alternative winter bedding combinations.
First, a couple of things to bear in mind. Always plant thickly and generously. In early summer, you can pop a few tiny plug plants into an ocean of compost, because all will be frothing over with foliage and flowers within a couple of months. That won't happen now; both temperature and light levels are too low for much growth. If you plant small plants into an ocean of compost, you will stare at small plants in an ocean of compost all winter. Create the picture you want to see now, and don't rely on nature to sort it out later.
Also, compost doesn't have to be anything special. In summer, you want something packed with nutrients to fuel all that growing; now it really is just a medium to hold plants in place. Use up old, spent compost to your heart's content. The compost from summer pots will be perfect. But though we're not expecting triffid-like growth, there will be some, so water plants in well and give them a dribble of water every now and then, too.
A word of caution: although these plants are marketed as flowers for winter, many will shut up shop during the coldest months, starting back into flower only once any big freeze has passed. They will herald the milder bits of winter, and be in full bloom when it's on its way out.
A woodland scene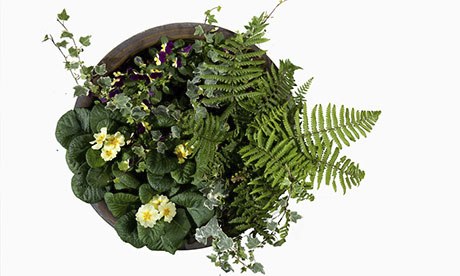 Yellow primulas planted with evergreen fern Dryopteris wallichiana and variegated ivy. Photograph: Franck Allais for the Guardian


Several winter bedding stalwarts are woodland plants, or at least the cultivated cousins of woodland plants. The winter bedding section of garden centres will have packs of gaudily coloured primulas in shades of shocking pink, purple, blue, red and orange. But in among them you may discover a few primula-coloured primulas, the lovely, soft yellow that pops up early in the year in dappled, coppiced woodlands. Grab them. Next, hunt among the rainbow of violas and you may find something mimicking the two-tone pale yellow and purple faces of heartsease, found in woodland clearings. Plant with a hardy, evergreen fern such as Dryopteris wallichiana, with a few strands of ivy weaving in and out, and you have a facsimile of a woodland floor. It has nothing like the subtlety of a real woodland floor, of course, these being far fatter and bolder plants, and the ivy variegated. It is more like a Victorian pastiche of a woodland floor. If I'd had one, I would have placed a small, slightly rotting log across it just so. There could be fairies, there could be toadstools. I resisted.
Dead and dying pots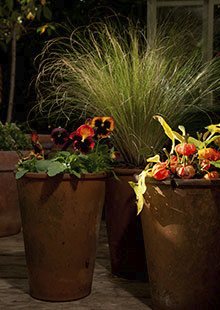 Pansies (left), Physalis 'Halloween Queen' (right) and grasses (centre) in terracotta pots Photograph: Franck Allais for the Guardian


Do not overlook the beauty of the dead and the decaying. Before you trawl through the bedding department that nestles close and cosy to the cafe and tills, trek to the cold and cheerless nether reaches of the garden centre, where the past-it perennials are for sale at half price or less. Look for gone-over echinaceas, irises and acanthus or, if you are very lucky, a vibrant, orange-podded Physalis 'Halloween Queen' (Chinese lantern): basically anything past flowering that is holding its shape. Next call in at the grass section for wispy grasses, ideally with seed heads but lovely without. Then return to the bedding section and test out my theory that there is a winter pansy to match anything. My pansies are the colour of fallen leaves and rotting earth, and make all the rest look meant, and will continue to do so even as the Chinese lanterns turn skeletal. If you want proper macabre, go for black pansies (they are surprisingly velvety and lovely) to match in with your blackened seed heads.
Tarted-up herbs and other found corners of compost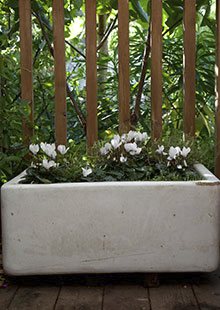 Photograph: Franck Allais for the Guardian


The deck outside my back door is covered with blank pots of compost as I wait for bulbs to pop up or leaves to regrow come spring. There is also a large butcher's sink with my favourite herbs: thyme, oregano and a little parsley. It looks a bit rubbish as these mainly Mediterranean darlings sulk their way through winter. I have nestled pure white cyclamen in among them, the herbs a silvery-grey foil to their twists of white flowers and silver-patterned leaves. The cyclamen can be ripped out come spring. I'm doing the same with every blank or dull pot; everything will work hard for its place outside my back door this winter.