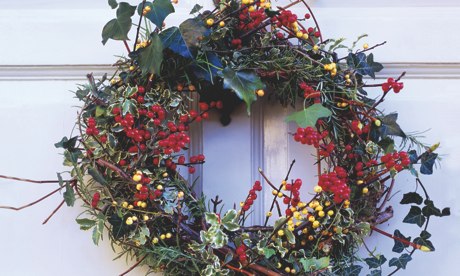 Collect foliage and berries to weave into garlands and wreaths. Photograph: Gap Photos/Leigh Clapp/Matthew Spriggs
1 Get crafty

Use the bounty from your garden or allotment to make Christmas a handmade affair. Harvest pine cones and allium seed heads to spray and make into decorations, and collect foliage and berries to weave into garlands and wreaths. Bendable whips of willow or dogwood make a great wreath base, then add holly, ivy, spruce, eucalyptus and other evergreens, plus any colourful berries you can find, such as cotoneaster, spindle, viburnum and rosehips. Squash mistletoe berries into apple tree branches to grow your own parasitic kissing plant – but this one's for the long game: it'll be a few Christmases until you're snipping your own sprigs.
2 Lure in wildlife

Hedgehogs, birds, bats, frogs, toads and the like help to keep garden pests under control. Start by encouraging insect-rich nettle patches, then add a woodpile, which makes a good nest for hibernating hedgehogs, as well as a host of minibeasts. Think outside the box by building a hide to watch birds and foxes.
3 Wise up

If you've ever wondered what Acer palmatum 'Atropurpureum Novum' means, why not learn Latin? Start by getting a copy of RHS Latin For Gardeners: 3,000 plant names explained and explored by Lorraine Harrison. Or expand your horticultural knowhow by learning about soil structure, photosynthesis and pH, getting a qualification along the way. The RHS offers courses for all levels of expertise, plus training in practical skills from chainsaw use to tractor driving. Visit the RHS to find out more.
4 Fan the flames

It's the perfect time to get a bonfire going to rid your garden of perennial weeds and thorny prunings. Dig a hollow with rocks around it to stop your inferno burning down your house or shed (if you want to be fancy, call it a "fire pit"). Put barbecue charcoal in the middle, then pile on the prunings in a teepee shape. Check for hedgehogs before lighting, and have buckets of water, sand and, if you're really paranoid, a fire extinguisher on hand. Use the ash as fertiliser. If you're on an allotment, check site regulations for limitations on burning waste.
5 Go vintage

For a rainy-day way to enjoy gardening without actually gardening, poke around secondhand shops for quirky gardening tools. Try salvage yards and antique shops for tin baths for turning into container ponds, glass cloches for overwintering salads and barrels for turning into water butts. If it's really mucky outside, browse oldgardentoolsforsale.co.uk and thevintagegardenstore.com from the comfort of your computer.
6 Be sociable

Volunteering for the allotment committee or local horticulture society can be rewarding. The role may include collecting subs, organising talks, inspecting plots and running sales. If you have accounting, organisational or party planning skills to offer, go for it. If you hate long meetings about not much, don't.
7 Tattoo the turf

Use the lawn for something more than making stripes. Be a Banksy of the sod using Grass Graffiti (£14.99, by Johnsons Lawn Seed), a chalk-based, aerosol spray "paint". Use it for garden games (think Twister, hopscotch or noughts and crosses), sports and parties. Or reshape your lawn, marking out new borders or reshaping existing ones.
8 Picture your plot

Reconnect with the magic of the outdoors by painting a picture using your favourite photos of your garden. Use charcoal for preparatory sketches on A3 paper. It frees up your drawing so you aren't producing tiny sketches. Move on to acrylic paints, which dry quickly, so can be painted on top of each other straight from the tube.
9 Guerrilla garlanding

Brighten up your plot with tinsel and baubles, and stick cheap Christmas decorations on park, garden or street trees. Spread the word via social media and watch guerrilla garlanding take off.
10 Watch others grow

You can grow in winter, of course – if you want to. Brassicas overwinter, as do root veg – and autumn-sown beans and peas should provide an early harvest. If this sounds like hard work, Grow, Make, Eat: The Great Allotment Challenge is on BBC2 from late February. By the time the series ends, you should be inspired to get back on to the plot again.
• To order The Allotment Planner, by Matthew Appleby, for £11.99 (RRP £14.99), visit the Guardian bookshop or call 0330 333 6846.