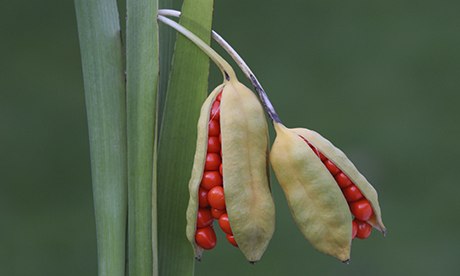 Winter colours: Iris foetidissima, with its rupturing seedpods, provides textural relief and contrast. Photograph: Alamy
The celandines are already pushing through, the mild weather providing a window for early growth. The first of their foliage lies flat against bare earth. They make me feel optimistic and, though it will be a while before they flower, the buds wait expectantly.
Close by, our native Lords and Ladies is up and also seizing the window of growth. I have the marbled form Arum italicum "Marmoratum" in my garden. It is an old favourite, which I grow for exactly this moment. Unless it has flowered and left berries behind in the summer you all but forget about it once it is dormant. The autumn rains are the trigger for renewed action and by deep midwinter it is at its finest with the foliage like a spearhead and veined with silver to catch the light.
Right now the arum is king and a delight for being the foil to winter companions. Slip it among winter-flowering Algerian iris and Cyclamen coum and drift it through evergreen ground cover to lift the coppery tones of Tellima grandiflora "Purpurea" or use it to provide flux among the sombre fronds of Polystichum setiferum. A solitary leaf, picked for the table, will support a sprig of witch hazel or honeysuckle. It will also enliven a drift of snowdrops in a gloomy corner and remind you that, in combination, one makes the other stronger.
It took me a while to understand that winter is not a season in which everything drops back to inactivity. Evergreens, coloured-stemmed cornus, willow and rubus all come into their own at this time.
When I plan winter corners that are connected, I see the combination as a layering exercise. Most of the best plant combinations are one thing juxtaposed with something that shares the same requirements or provides for its partner. The space under a shrub is valuable, the shrub providing cover, the understory support in a dull moment. Ground cover in turn is the foil against which emerging bulbs can be placed. Winter-flowering honeysuckle is lovely when its scented creamy flowers spangle bare branches, but the shrub's a dull thing in summer and bettered for an evergreen Epimedium "Sulphureum" at its feet.
Close by, the textured foliage of Viburnum davidii might provide the contrast of a change in leaf scale and the benefit of blue berries. Team it up with early-flowering Tenby daffodils. The shady places are often the areas where winter performers do best.
Groundcover is also a way of connecting spaces in winter, a sweep of the winter-flowering Vinca difformis moving easily in the areas that remain overshadowed in the summer, yet drawing the eye in winter to pools of other plants that emerge to puncture this layer. Helleborus foetidus, with dark-fingered foliage and lime-green bells, and evergreen Iris foetidissima with its rupturing seedpods exposing the tangerine seeds will provide colour, textural relief and contrast.
Winter may be a long season, but you could never say that it is one that is lacking in interest.
Get growing

Plug winter gaps when you see them. Winter aconites, snowdrops and the early wild daffodils are best moved in-the-green, immediately after flowering. This gives you the opportunity to avoid a dull corner next winter.