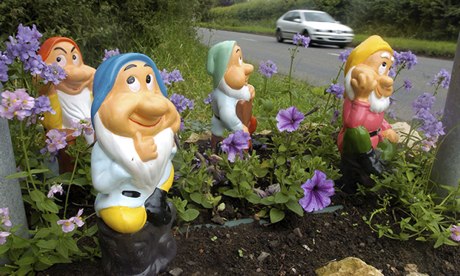 Brattleby gnomes: the identity of prankster Peter Leighton, who placed gnomes around his home village, finally came to light at his funeral. Photograph: Newsteam
For the Lincolnshire village of Brattleby, the plague of gnomes is over. The man who spent 10 years sneaking little men in pointy hats into its gardens, garages and bus shelters was unmasked at his funeral last week. Retired civil servant Peter Leighton teamed up with his son David to plot a route around the village that avoided setting off neighbours' security lights. Here are four more village pranks to rival Brattleby's infestation of garden gnomes:
The fake lap-dancing club. In June this year, someone in Ickleford in Hertfordshire put up fake planning notices to convince locals that their beloved pub, The Green Man, was due to become a seedy "gentlemen's club". "Everyone was in shock," a shopkeeper told the local newspaper, the Comet.
The flood of foam. In the Welsh village of Towyn, neighbours Maggie McElroy and Barry Brennand have been locked in a good-natured battle for years. The playful feud reached new heights in April when Brennand filled McElroy's front garden with a six-foot-deep blanket of white foam.
The mystery postbox. Earlier this year, villagers in Sonning-on-Thames in Berkshire were surprised to see a wall-mounted red postbox turn up overnight on the side of Sonning Bridge. The phantom letterbox, which could only be reached by boat, was later removed for breaking the planning laws.
The infamous renaming. In 1986, the village of Weston Underwood village in Derbyshire saw its welcome sign altered to read "Vest'n'Underpants". The new sign made its way on to national TV and into the tabloids, briefly making the village a laughing stock. Former graphic designer Chris Skripek confessed 26 years later. He told the Derby Telegraph: "I guess I was doing a Banksy before he did his thing."