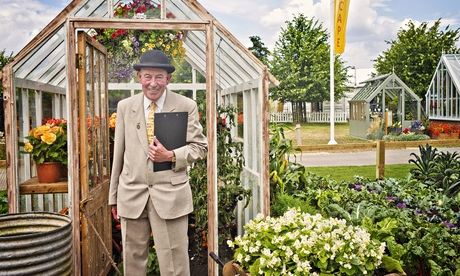 Jim Buttress one of the main judges of Britain in Bloom which is celebrating its 50 year anniversary this year. Photograph: Sarah Lee for the Guardian
Clipboard in hand, Dunn & Co bowler on his head, medals and ferocious expression all securely in place, Judge Dredd – aka lifelong gardener and horticultural competition judge Jim Buttress – marched into a garden celebrating a half century of Britain in Bloom.
The yearly contest that is Britain in Bloom is open to UK cities, towns and villages and was first won by Bath in 1964.
It is dedicated to the conviction that there is no part of Britain so irredeemably grotty it can't be improved by a nice flower tub and a few hanging baskets.
The Bloom garden is the centrepiece of the Hampton Court Flower Show in Kent which opens to the public on Tuesday.
The show is the bigger but slightly less posh cousin of Chelsea, and both are run by the Royal Horticultural Society (RHS).
Celebrities at large among the begonias on Monday included singer Sophie Ellis-Bextor, comedian Bill Bailey, actor John Hurt, Sir Trevor McDonald, Mary Berry, Samantha Bond, and – more surprisingly – justice minister Simon Hughes, joining a group of ex-offenders in a garden makeover team.
The Bloom Garden was designed by serial Chelsea gold medallist Jon Wheatley, to reflect the change over the half century of the contest from immaculate municipal lawns and sternly regimented bedding plants on one side of the path to today's fashion – demonstrated in other gardens all over the show – for sustainable planting of drifts of grasses, herbs, perennials, and wild flowers and vegetables.
Buttress, Britain in Bloom judge and recently retired chair of the competition, has led the change from local authority gardeners showing off their greenhouses' finest produce to today's efforts from 300,000 sets of voluntary green fingers.
"We had to do something to recognise the guys who get together to clean up some filthy needle-strewn alleyway and put in a few plants, and the little old lady in the block of flats who always puts out a box of flowers. They're never going to win any competitions, but they are really important," he said.
He knows at first hand the power of plants to change lives. From childhood, his Christmas presents were packets of seeds, and he left school at 16 after miserable years when he was only happy in the school garden.
He was trained in a commercial nursery, and Croydon's municipal garden division, before winning a coveted place but failing his diploma at RHS Wisley, then spending a quarter century with the Royal Parks.
When he was awarded his honorary RHS Associate of Honour medal, and later the Victoria Medal – held by only 63 people at any time – it astonished and delighted his father, who had yearned to become a gardener but was pushed instead into a lifetime in insurance.
"My old dad wasn't too well at the time, and he said: 'You wait till I'm nearly on my death bed before you do one useful thing in your life'," Buttress recalled, adding: "I wonder how many of those academics and snobs at Wisley ever got anything like this?"
When invited to become a judge, he suggested to the others – including Alan Titchmarsh – that it would be nice if they all went back to wearing bowler hats on judging visits.
"Seemed obvious to me – foremen, local authority head gardeners, garden show stewards, they all wore bowler hats. So I turned up the next year with my new hat, to find I was the only idiot wearing one."
But now it is his trademark – abandoned only when he visited a Northern Ireland village under police escort – along with his stern look and forthright manner.