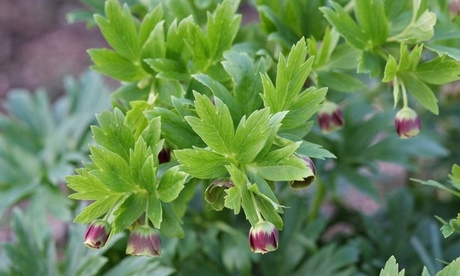 Helleborus vesicarius needs to be grown in a well-drained, sheltered position to succeed. Photograph: Tom Mitchell
Green flowers, the ones that you have to get down on hands and knees to look at, have always attracted me. I don't know if it's their understated simplicity or the fact that I just like things as nature intended. Hence my interest in species hellebores.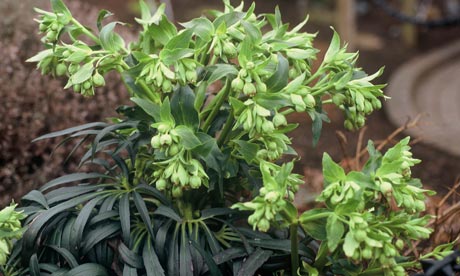 Helleborus foetidus is native to the UK.


It's probably got something to do with the fact that our native British hellebores are plants of my childhood. I used to come across clumps of Helleborus foetidus (stinking hellebore) in the woods near where I lived and asked my mum if I could grow some. The reply was "Robbie, they are wild flowers and best left where they are. I held the longing to grow them right into adulthood.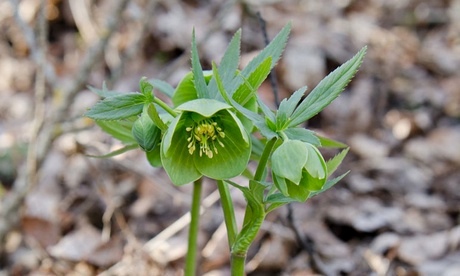 UK native Helleborus viridis flowers in March and April. Photograph: Tom Mitchell


Helleborus viridis, the other of our natives, gives an air of fresh elegance to a shady garden. Bearing nodding apple-green flowers full of bright yellow stamens through March and April, it's my favourite. When all the other flowers are putting on a show of bright colour for the early spring bumblebees H viridis stands quietly in a corner looking dainty and demure.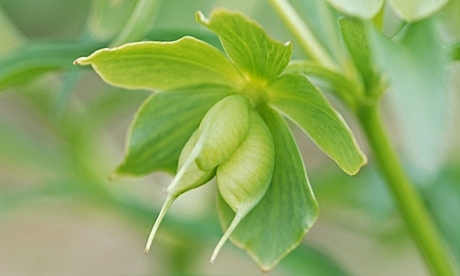 The seedheads of Helleborus dumetorum can be used as cut flowers later in the year. Photograph: Tom Mitchell


Another green Hellebore that attracts my attention is H dumetorum. It's more of a matt, muted green (sometimes with a flush of deep purple) and has intricate, paler veins in its flowers. Plant hunter and nursery owner Tom Mitchell, perpetrator of a recent increase in interest in species hellebores, said of it "Perhaps the most graceful of hellebores, H dumetorum occurs in moist, flat woodland in a small region of Central Europe. The dainty, pale green flowers are small but borne in abundance and stand out against the foil of the bronze emerging bracts. It flowers early in cultivation, often starting in late January, and makes a fine companion for snowdrops, Galanthus nivalis, with which I often see it in the wild." Its interest doesn't stop in the spring either. I like to use the seedheads of H dumetorum as cut flowers a little later in the year.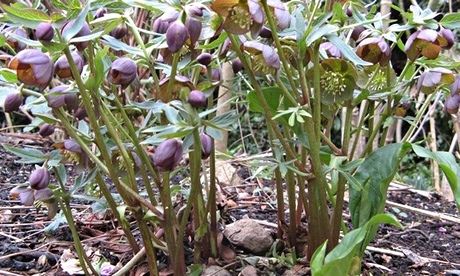 The nodding flowers of Helleborus torquatus come in shades of deep purple, chocolate brown and green. Photograph: Ben Ram


H torquatus is a touch more colourful. It is a variable plant in the wild and is surrounded by confusion. There are multiple distinct forms of it that some consider different species all together. One such form comes from central and eastern Montenegro and stands out from its kin in having larger flowers and sparsely lobed leaves. A double form of H torquatus from Montenegro was one of the ancestors of our modern double hellebores. Two double plants were brought into cultivation from the wild, by Elizabeth Strangman in the 1980s and were named 'Dido' and 'Aeneas'. Whichever form you grow you will be rewarded by intricate nodding flowers 3cm to 4cm across, in shades of deep purple, chocolate brown and green.
For those that appreciate even more colour in flowers there is H purpurascens. Pushing its way through the soil in mid-December, the deep purple flowers (sometimes green inside) are often the first of the hellebore flowers to show. Hailing from Eastern Europe, including much of the Carpathian mountains, H purpurascens grows as well in full sun as dappled shade, which adds to its appeal.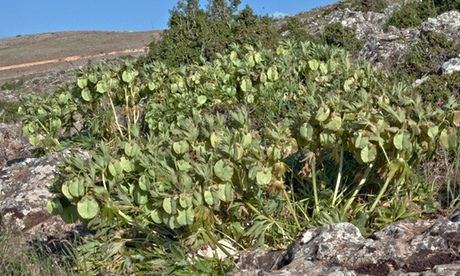 The seed pods of Helleborus vesicarius holds on to its large papery seed heads until summer. Photograph: Tom Mitchell


And for something completely different and a bit more challenging, why not try to get hold of H vesicarius from Turkey and Syria. Its leaves are lush and waxy, more like a ranunculus, and its flowers narrow and held like bells. Its seed pods are huge (for a Hellebore) and inflated like bladders. What's more, the plant holds on to them right into the summer. By this time they are papery, skeletal and exquisitely beautiful. Unlike the other species they need to be grown in a very well-drained, sheltered situation for them to do well. They resent being wet while they are dormant during the summer, and hence those that do grow them often grow them in a terracotta pot and store them dry, like a bulb. Yes, it's a bit more work, but I assure you it is worth it.
Hellebores transport me, in a moment, from magical British woodlands in winter to rocky, sun-drenched hillsides in Turkey. They also transport me back to my childhood and the conversations I had with my mum that have shaped my adulthood. They are a joy to my eyes but definitely not to my knees.
• Robbie Blackhall-Miles is a modern day plant hunter's propagator and gardener. He is personally interested in ancient families of plants and blogs about these on his website fossilplants.co.uk. He also tweets as @fossilplants.