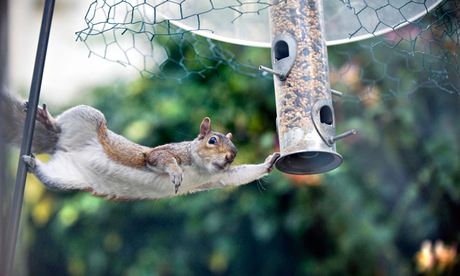 Urban grey squirrel stealing birdseed in garden, Brighton, 2012. Photograph: Roger Bamber/Alamy
Grey squirrels are the most spotted species of garden wildlife in the UK – but few people see the indigenous red squirrel, a survey has revealed.
The second round of results from the RSPB's Big Garden Birdwatch (BGBW) show that nearly three-quarters (72%) of people see grey squirrels in their gardens at least once a month and 91% had spotted them at one time, but less than 3% reported monthly sightings of red squirrels and 93% of participants had never seen one in their garden.
The red squirrel, threatened by a lethal poxvirus carried by the introduced greys, has been lost from much of the UK. But in rural Scotland, where the red still has a stronghold, almost one in five people reported seeing the endangered species in their gardens at least once a month.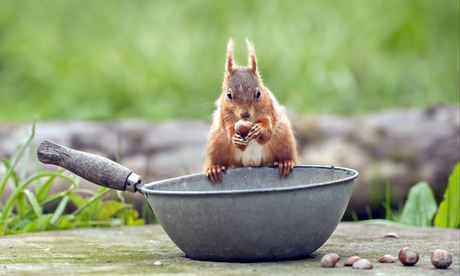 A red squirrel feeding in garden, North Yorkshire. Less than 3% reported monthly sightings of red squirrels and 93% of participants had never seen one in their garden. Photograph: Alamy


This year, for the first time, participants in the annual birdwatch were also asked to count the other wildlife seen in their gardens from March to October, when hibernating animals are more active. Species spotted in urban, suburban or rural gardens included badgers, hedgehogs, grey and red squirrels, muntjac deer, roe deer, frogs and toads.
When not hibernating, the common frog is the most second most spotted garden species, according to the results. Almost half (46%) of people in the UK see a common frog in their gardens at least once a month – regardless of whether they live in a rural, suburban or urban area.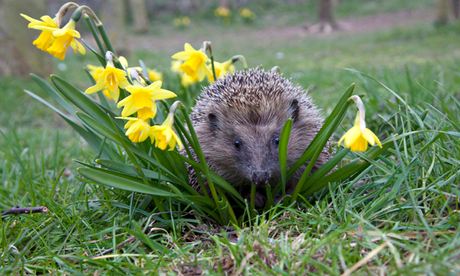 Populations of the hedgehog have suffered a dramatic decline in recent years. Photograph: Les Stocker /Alamy


Although the hedgehog has been seen in 67% of the UK's gardens at one time, they were seen on a monthly basis in less than one-third (28%) of gardens. Populations of the spiky mammal have suffered a dramatic decline in recent years, falling by more than one-third between 2003 and 2012.
Badgers are spotted by 40% of people living in rural areas, though 20% of suburban and 15% of urban residents have seen them in their gardens too. Deer are unsurprisingly much more common in the countryside, with 30-36% of rural residents seeing roe or muntjac deer in their garden at some point, compared with only 5-7% of urban dwellers.
Some 28% of people see toads monthly, but the warty amphibians, which have declined in central and southern England, are more likely to visit gardens in rural areas, with 41% of householders in these areas seeing them on a monthly basis.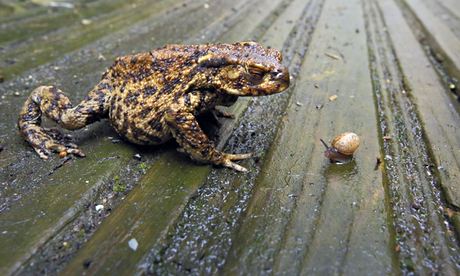 A common toad approaching a small snail on wet wooden decking in a garden in Sussex. Toads were not seen as often as frogs in UK gardens. Photograph: Alamy


Nearly half a million people took part in the BGBW – the UK's biggest citizen science survey – and almost 300,000 supplied extra information about the other wildlife that visits their garden. The RSPB wants to use the information to build an overall picture of the importance of gardens for wildlife and the data will be shared with partners including the Amphibian and Reptile Conservation Trust (ARC), the People's Trust for Endangered Species and the Mammal Society.
Daniel Hayhow, RSPB conservation scientist, said the survey highlighted the importance of gardens for wildlife. "This is the start of something big and something very, very important. In a few years' time we'll be able to compare how the distribution of garden wildlife may have changed. Hopefully, the fact that more people are helping to give nature a home in their gardens and outside spaces will mean we see improvements rather than declines."
Dr John Wilkinson, ARC science programme manager, said: "It's great to know that frogs and toads are still widespread in UK gardens, which are a crucial habitat for both of them, but worrying that toads are relatively so much less common than frogs, especially in England."
Marina Pacheco, the Mammal Society's chief executive, said: "It's fantastic to know that gardens can be a vital refuge for rapidly declining species like the red squirrel and hedgehog … participants have greatly increased our understanding of the distribution and relative abundance of UK mammals."
The charity's latest campaign, Giving Nature a Home, is calling on the public to provide a place for wildlife in their gardens and outdoor spaces, "whether it be planting pollen-rich plants to attract bees and butterflies, putting up a nestbox for a house sparrow, or creating a pond that will support a number of different species".
This year's BGBW results, released last month, found blue tits, goldfinches and great spotted woodpeckers in greater abundance, despite many bird species being recorded at lower numbers in gardens because of the unusually mild winter.